Nicolas Nicolaou, new Post-Doc Researcher
01 December 2014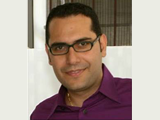 Dr. Nicolas Nicolaou has become a member of our research team. He will occupy the position of Post-Doc Researcher from December 2014. He has been awarded a Marie Curie Intra-European Fellowship (IEF) for career development to work on the research project ATOMICDFS (Seeking Efficient Atomic Implementations of Distributed Data Storage) with Scientist in Charge Dr. Antonio Fernandez Anta, a Research Associate Professor at IMDEA Networks. His main areas of scientific interest currently lie in fault-tolerant distributed algorithms, distributed storage systems, parallel algorithms, wireless and sensor networks, security evaluation and analysis of voting technologies.
Nicolas' research has been published in top conferences such as PODC, DISC, SPAA, and peer-reviewed scientific journals such as JPDC, IEEE Transactions on Information Forensics and Security, mostly in the fields of distributed computing, networks and security. For his work he received funding from the Cyprus Research Promotion Foundation (2010-2011) and secured the Marie Curie IEF mentioned above (2014-2016).
He previously held the position of Visiting Lecturer at the University of Cyprus in Nicosia (2011 -2013) and served as a Special Scientist at the Cyprus University of Technology (2013-2014). Prior to that he worked as a Research Assistant in the Dependable Distributed Systems Lab at the University of Connecticut (USA), and as a Senior Research Assistant in the VoTeR Lab at the same university.
Nicolas obtained his Ph.D. in 2011 and his M.Sc. in 2006, both from the Department of Computer Science and Engineering at the University of Connecticut. He obtained his B.Sc. in Computer Science from the University of Cyprus in 2003. His PhD dissertation entitled "Trade-offs in implementing consistent distributed storage systems" studied the trade-offs between the efficiency and scalability of atomic distributed memory implementations.
Post-Doc Researchers at IMDEA Networks
Would you like to join our team of young researchers? More information in our Careers opportunities pages.
Source(s):
IMDEA Networks Institute