Nicola Bui, new PhD Student
21 October 2013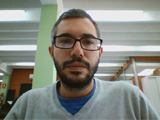 Nicola Bui has become a member of our research team. Starting from October 2013, he will be working as a PhD Student under the supervision of Joerg Widmer, Research Professor at the Institute.
Prior to his incorporation to IMDEA Networks Nicola was the CEO of Patavina Technologies, a spin-off of the University of Padova operating in the ICT field. The company was devoted to the design and development of embedded systems. At the same time, and for a seven year period, he worked as a researcher fellow for the Consorzio Ferrara Ricerche (CFR) and the Department of Information Engineering (DEI) of the University of Padova. During this period he was involved in many European and Italian funded projects, such as e-SENSE and SENSEI, which focused on wireless sensor networks, IoT-A, aimed at defining a reference architectural model for the Internet of Things, SWAP, dealing with energy harvesting in the IoT, and WISEWAI, on the realization of an urban wireless sensor network in Padova.
His research interests currently lie in Content distribution networks, Network optimization, and the Internet of Things.
---
PhD Students at IMDEA Networks
Do you also wish to join our team of young researchers? More information in our Careers opportunities pages.
Source(s):
IMDEA Networks Institute