Neftalí González, new Systems Engineer
07 February 2017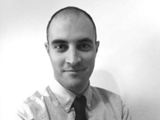 Neftalí González Blázquez has become a member of our research support team. He will be working as a Systems Engineer from January 2017. His primary work will be for the 5TONIC laboratory. Since 5TONIC is continuously expanding its membership and activities, he will be providing essential technical support to ensure the lab's objectives are met.
---
Neftalí González studied at the University Rey Juan Carlos in Madrid, obtaining a BSc. degree in Computer Systems in 2006. Since then he has been employed as a Project Engineer for companies such as Fractalia and Gowex, where he has developed Wi-Fi networks in various locations including Madrid, Lisbon, Edinburgh, Dubai or New York City. From 2011 to 2013 he lived in the Chicago Area (USA) working for various firms as an IT Consultant.
---
Research Support team at IMDEA Networks
Do you also wish to join our team of technical and professional experts to support ongoing research efforts at IMDEA Networks? More information in our Careers opportunities pages.
Source(s):
IMDEA Networks Institute