More real than virtual reality
06 May 2009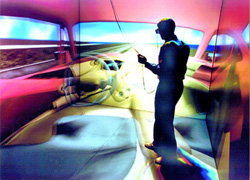 The senses of smell and touch have also arrived in virtual reality. New devices are being produced for that very purpose, and Dr. Nicolas Georganas has announced some of them, in San Sebastian.
---
Mikel Peruarena.
San Sebastian
Having listened to Dr. Nicolas Georganas (Athens, Greece, 1943), you would think that relationships between human beings, and those between humans and machines, were set to change completely. He is an expert in web-based multimedia resources and virtual reality. Amongst the awards and nominations that he has received, worthy of note is the fact that he has twice been appointed to an honorary doctorate, one from a Greek university and another from one in Germany. He currently devotes himself to research into recreating the senses. Amongst other things, he is developing haptic applications at the University of Ottawa (Canada). Haptic applications are able to recreate the senses – touch, for example. To give a more tangible example: in virtual reality you can shake someone else's hand, and feel that handshake, as if it were real. You would need a special glove in that case, in order to recreate the sensation of the handshake in the hand.
These applications were the subject of discussions, three days ago, at the San Sebastian I.T. Faculty of the University of the Basque Country (EHU). The social effects of the changes that these new devices have introduced are very significant, in Georganas' view: "If I can't go to the Basque Country to see a friend and have a coffee… Now I can see that friend via video, on the telephone. I can even touch them. It's a huge change".
Georganas started working and conducting research in the field of telecommunications in 1984. He got a job with a Canadian company; they asked him to come up with a way to combine digital audio and images in medicine and teleradiology and use them for collaborative purposes. "At the time computers weren't ready to disseminate digital videos, but there was equipment in hospitals for taking digital images; and there was no means of sharing those images and enabling collaboration amongst doctors".
Gradually, the possibility was created to use videos, text, sounds, images and so on on a single platform, through the development of multimedia devices and resources. Georganas explains that each step led him to the next: "One thing led to another: virtual reality, haptic applications, conveying the sense of smell by computer, conveying sensations… We have all of that already".
The hero of the film Minority Report manipulated a large high-definition computer screen using arm and hand movements. In that same vein, at the University of Ottawa they are producing and researching devices that can read the body's movements, so that computers can respond to those movements. Wii devices would be another example.
Georganas' research is going one step further, however, according to Alex García, a lecturer at the University of the Basque Country: "It is one thing to invent some sensors so that a machine can detect movements, and quite another to recreate the senses". For example, touching and feeling a virtual material, as if it were being touched for real.
Enabling surgery
Haptic applications may have a wide range of uses, according to Georganas: in medicine, industry, the security sector, e-commerce… In San Sebastian he announced an application that he had been developing with a team at the University of Ottawa. It is a tool that can be used in cataract surgery on the eyes. By using a haptic application, the student is carrying out surgery on a three-dimensional image, but he can feel absolutely everything, as if he were carrying out actual surgery. "Doctors have to learn, for example, how much pressure they can apply to the cornea; if they apply more pressure than they should, they could damage the eye".
With these applications, teachers could teach their students virtually, even if they were thousands of kilometres apart. "Travel is very tiring, and expensive", says Georganas, laughing: "If high-quality communications exist, we will be able to avoid a lot of travel. We could collaborate remotely. We could build capability… We will only travel to go on holiday". These applications could have the same use in learning to drive trains or fly planes too. The issue is how to make the tests being undertaken in simulators more real, making it possible to feel things; in other words, making what is by its very nature virtual reality, more real.