The IMDEA Institutes have appeared on the Primera Hora show presented by Javier García Mateo on Gestiona Radio
19 September 2017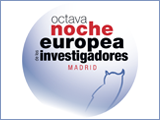 Javier García Mateo, the presenter of Primera Hora (Gestiona Radio) has invited some researchers from the IMDEA institutes to share his programme.
---
For nearly an hour, they discussed science in general and, in particular, what they are going to show the crowd at La Residencia de Estudiantes de Madrid on the afternoon of Friday, September 29, at IMDEA-CSI: crime scene investigation, one of the activities that are being organised in Madrid within the project European Researchers' Night in Madrid 2017, coordinated by the Fundación para el Conocimiento madrimasd.
The guests were Juan Manuel Ortiz, from IMDEA Water; Ana Ramírez de Molina, from IMDEA Food; Rebeca Marcilla, from IMDEA Energy; Juan José Vilatela, from IMDEA Materials; Álvaro Somoza, from IMDEA Nanoscience; Antonio Fernández Anta, from IMDEA Networks; and Juan Caballero and Manuel Carro from IMDEA Software.
If we had to condense the contents of the gathering into a few lines, we could start with something that they have all defended: the IMDEA institutes have engaged for eight years in activities organised as part of the European Researchers' Night in Madrid, and we literally quote them as saying: "to show that scientists are normal and that our activity, however strange it may seem for many people, sooner or later will have a positive impact on society."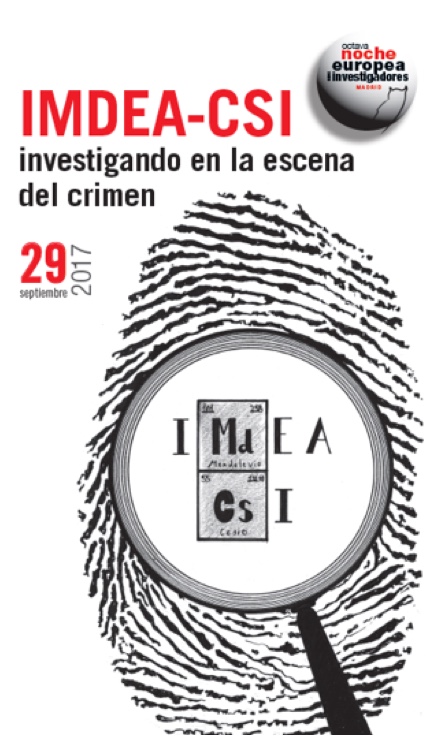 And very good examples of this impact have been shared with us during the discussion. One of them, "Precision Nutrition", analyses who you are and what situation you are in, to recommend what you must eat and thus help improve your health. Another, the immense usefulness of the tiniest of things, in which nanoscience operates, which allow for us to manufacture nano-vehicles carrying drugs that attack tumours and no other healthy parts of our bodies. Of immense utility is also Chemistry, which if in the past polluted our waters, today is being used to clear the cumulative negative effects. Cybersecurity also has a great deal to add in its usefulness for us: it defends us from hacker attacks, which sometimes are inspired by something as old as mankind itself, money, others raise political demands and others are the weapon that some States use against each other. And what about new technology in the production of batteries! The standout issue is not only to produce and store energy sufficient for us all and everywhere, and that itself is already a challenge, it is also doing so in such a way that it can be used in all types of "devices", meaning these do not compromise the future of the planet and lead to soaring costs.
They have also reminded us that apparently different sciences such as studies of materials and network-centric, often work in tandem, for example, to fabricate LED using proteins, LED that then use communication networks to make these more secure and efficient and less polluting.
Already focused on the activity organised by the IMDEA institutes at La Residencia de Estudiantes, IMDEA-CSI: crime scene investigation, we have been informed that with the help of the National Police Corps, in particular, the Forensic Police, they will "replicate" a crime scene, where the police will explain how they must act, collect samples,…, samples that will be analysed by IMDEA Institutes' researchers. The purpose of this display is putting very real examples of technology used in police work which are often the result of investigations carried out in centres such as the IMDEA institutes. And here is where this report ends! Whoever wants to know the outcome must visit the Residencia on Friday, September 29 shortly before six o'clock.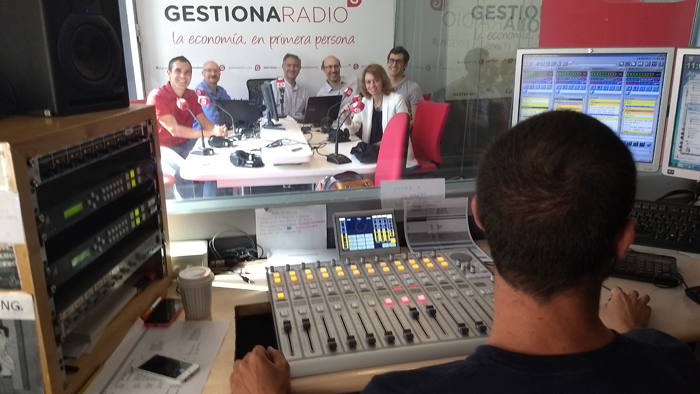 Researchers from IMDEA have invited everyone to participate. They know the Residencia inside out, they have participated in previous editions of the European Researchers' Night in Madrid, they know that in Madrid more than thirty activities are organised, and know which ones the general audience tends to favour. And all this seems magnificent. It is undoubtedly worthwhile repeating the experience. The Residencia de Estudiantes offers an unbeatable setting, with highly interesting activities organised in Madrid under the coordination of the Fundación para el Conocimiento madrimasd, and which is well attended by a knowledgeable crowd.
Crowds from past editions have reminded the tremendous interest they showed in science and their ability to reach the root of problems, asking questions that proposed real challenges for the researchers.
IMDEA-CSI: crime scene investigation certainly looks like an interesting evening out.
COLABORA
FINANCIA
ORGANIZAN
Este proyecto de La Noche Europea de los Investigadores de Madrid está financiado por el Programa Marco de Investigación e Innovación Horizonte 2020 bajo las Acciones Marie Sklodowska-Curie de la Comisión Europea. DG-EAC. Comisión Europea, bajo el Acuerdo de subvención número 721631.
Source(s):
IMDEA Initiative