José Antonio Ruipérez, new PhD Student
03 February 2014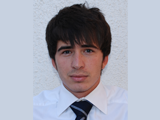 José Antonio Ruipérez has become a member of our research team. He will be working as a PhD Student from January 2014. His main areas of interest are Learning Analytics, Educational Data Mining and Visualizations.
Prior to his incorporation to IMDEA Networks, José Antonio worked in the private sector, as a Programmer for Accenture Technology Solutions, as well as in academia, having joined University Carlos III of Madrid (UC3M) as a Research Assistant.
In 2010 he obtained his B.Sc. in Telecommunications Systems from the Catholique University of San Antonio (Universidad Católica de San Antonio) (Murcia, Spain). In 2013 he received his M.Sc. in Telecommunications Engineering from UC3M. He has received the Outstanding Graduate of the Year Award (ranked 1st in the class) upon the completion of each of the degrees. His master's thesis also received an additional award delivered by Accenture. Nowadays he is pursuing a M.Sc. in Telematics Engineering at UC3M.
---
PhD Students at IMDEA Networks
Do you also wish to join our team of young researchers? More information in our Careers opportunities pages.
Source(s):
IMDEA Networks Institute