Joerg Widmer, General Chair of WONS 2014
31 March 2014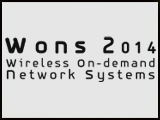 Joerg Widmer, Research Professor and Research Strategy Manager at IMDEA Networks Institute, is General Chair for the IEEE/IFIP Annual Conference on Wireless On-demand Network Systems and Services. WONS 2014 will take place from April 2nd to the 4th in Obergurgl, Austria. Joerg's extensive experience on wireless research has led him to be elected General Chair of the 11th edition of this well-established networking forum, together with Christoph Sommer, from University of Innsbruck, in Austria.
Dr. Widmer has recently been awarded a prestigious ERC Consolidator Grant (the most valuable individual grants for researchers in Europe and a major indicator of excellence in scientific research) and also a Spanish Ramón y Cajal Grant. Dr. Widmer, who is group leader for the wireless networking research line at IMDEA Networks, and thus responsible for directing and coordinating wireless research, has received the ERC Consolidator Grant to conduct a project – named 'SEARCHLIGHT' – that will lead to the advancement of wireless communication and the improvement of its scalability, ubiquity and energy efficiency.
WONS 2014
A list of high-quality research contributions on "wireless on-demand networks" compose WONS' broad and leveled technical program. This year's edition will also count with keynotes by Injong Rhee, Professor at the Department of Computer Science in North Carolina State University (USA) and Doug Leith, Director of the Hamilton Institute at the National University of Ireland Maynooth. The conference aims to provide new insights on protocol and network design, modeling, performance evaluation, profitability models, energy efficiency, QoS models and mechanisms, practical implementations, service level aspects, and Internet integration of wireless networks.
Event website: http://2014.wons-conference.org/
Source(s):
IMDEA Networks Institute