Boost to research into P2P and e-commerce of Future Wireless Internet
18 January 2009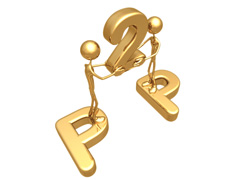 Thanks to the appointment of Dr Georganas who will tutor doctorates at UC3M
Dr Nicolas Georganas has been appointed as visiting researcher at the Madrid Institute of Advanced Network Studies (IMDEA Networks), during the current academic year, as a Cátedra de Excelencia at Madrid's Carlos III University (UC3M). He is a pioneer in information and networking technology research, as well as an expert in interactive multimedia communications at the Ottowa School of Information Technology and Engineering, Canada.
---
The Doctor is going to collaborate with IMDEA Networks in the training and mentoring of Research Assistants, who are undertaking a promising professional career while studying for their doctorate at UC3M. His research will focus on advancing networking technology in the fields of 3D multimedia content distribution via P2P (Peer-to-Peer) networks, haptic tele-supervision on P2P networks and privacy protocols for e-commerce communities.
The ultimate aim is to evolve from the fixed conventional Internet to the Future Wireless Internet, made up of an omnipresent, ubiquitous and mobile network service that will provide connectivity any time, anywhere.
Dr Georganas, the former Associate Vice-President of Research (External) and Founding Dean of the Faculty of Engineering of the University of Ottawa, is also advising on the institute's technology transferral. This will help ensure that the IMDEA Networks research activities remain relevant, that its innovations will be disseminated and that its full value to society will be made tangible through various processes of transferral.
Future Wireless Internet
Arturo Azcorra, the IMDEA Networks manager, believes that the Future Wireless Internet "is a key component of sustainable growth and social integration in a globalised economy". "If the Internet is going to provide the benefits its potential suggests, its use in the future will be characterised by billions and billions of devices connected wirelessly. Mobile telephones, PCs, environmental sensors, domestic devices like fridges, even clothes will be connected to the Future Wireless Internet", he stated in an interview with Madri+d.
With this is mind, Azcorra concludes that "this is the mission we have set ourselves: to confront challenges like omnipresent Internet access, security and privacy, durable and scalable network control, content distribution networks and alternative business models".
Read More:
Source(s):
IMDEA Networks Institute, Gaceta Tecnológica