IMDEA Networks working on ultrafast 5G mobile broadband in millimetre wave bands
24 July 2015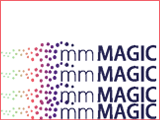 IMDEA Networks Institute is part of an international consortium that aims to develop concepts and key components for a new 5G mobile radio access technology. The technology is expected to operate in a range of frequency bands between 6 and 100 GHz, including millimetre-wave (mmWave) frequencies.
---
The use of such extremely high frequencies for mobile communications is challenging but necessary for supporting 5G's extreme mobile broadband service which will require very high (up to 10 Gbps) data rates, and in some scenarios, also very low end-to-end latencies (less than 5 ms). The project aims to accelerate standardisation of millimeter wave technologies for 5G so that the industry and citizens will benefit from commercialisation by 2020.
The mmMAGIC project is co-funded by the European Commission's 5G PPP program, bringing together major infrastructure vendors (Samsung, Ericsson, Alcatel-Lucent, Huawei, Intel, Nokia), major European operators (Orange, Telefonica), leading research institutes and universities (Fraunhofer HHI, CEA LETI, IMDEA Networks, Universities Aalto, Bristol, Chalmers and Dresden), measurement equipment vendors (Keysight Technologies, Rohde & Schwarz) and one small to medium size enterprise SME (Qamcom).
mmMAGIC will develop and design new concepts for mobile radio access technology (RAT) for deployment in the 6-100 GHz range, including novel waveform, frame structure and numerology, novel adaptive and cooperative beam-forming and tracking techniques to address the specific challenges of millimetre wave mobile propagation. This new RAT is envisaged as a key component in the overall 5G multi-RAT ecosystem.

Joerg Widmer, Research Professor, and Domenico Giustiniano, Research Assistant Professor, will lead the tasks assigned to IMDEA Networks Institute. Dr. Widmer said: "IMDEA Networks is very much involved in the development of 5G technologies such as mmWave communications or Software Defined 5G Networks. The mmMAGIC project complements our existing research programmes, such as the ERC Consolidator Grant SEARCHLIGHT and the regional initiative TIGRE5-CM. Together with the leading role of Arturo Azcorra, IMDEA Networks' Director and President of the 5G Expert Group of the NetWorld2020 European Technology Platform, they constitute a powerful vehicle for influencing global 5G standards".
Within mmMAGIC, IMDEA Networks will exploit its strong competence in system-level design and implementation to investigate interworking of millimetre-wave cells both for standalone operation and joint operation with cells of other technologies, architectural support for integration of the millimetre-wave technology with other 5G and legacy technologies, system-level performance analysis of millimetre-wave radio access, and investigation of functional splits between network elements. IMDEA Networks further leads the investigation of multiple access and duplexing schemes, context-aware access protocols, efficient discovery/cell search schemes using different mm-wave network deployments, and efficient initial access procedures to allow fast beam finding/matching and link establishment.

Seamless and flexible integration with other 5G and LTE radio interfaces are foreseen in the design of mmMAGIC's radio network architecture and this will be realized through improved and entirely novel inter-networking functionalities that will be developed in the project. Self-backhauling and front hauling capabilities are also foreseen, thereby creating a holistic, scalable and economically viable integrated 5G solution to meet future needs of operators, enabling, for example, ultra-high definition TV and video streaming, virtual reality, immersive experience, and ultra-responsive cloud services in 5G for mobile users.
The project will undertake extensive radio channel measurements in the 6-100 GHz range at multiple locations in Europe, and will develop advanced channel models that will be used for rigorous validation and feasibility analysis of the proposed concepts and system, as well as for usage in regulatory and standards fora. The ambition of the project is to pave the way for a European head start in 5G standards and to be a focal point for European and global consensus building on the architecture, key components and spectrum for 5G systems operating above 6 GHz.
mmMAGIC is coordinated by Samsung. Ericsson acts as technical manager while Intel, Fraunhofer HHI, Nokia, Huawei and Samsung will each lead one of the five technical work packages of the project. The project was officially launched 1st of July and will last for two years. However, the consortium decided to jump-start its research three months ahead of the official EC launch in order to deliver its first results by the end of July.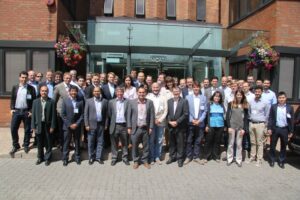 Following its official launch, over 60 delegates (Domenico Giustiniano, representing IMDEA Networks) gathered at Samsung R&D Institute UK (SRUK) 7-8 July to discuss mmMAGIC's first findings and launch project's highly ambitious measurement campaigns, which will take place over the next 9 months in Germany, France, Finland, Sweden and the UK. Other technologies areas covered in mmMAGIC Kick-off meeting included 5G millimetre wave architecture and integration, radio interface design, and multi-antenna and advanced cooperation schemes to realise an "edgeless" Gbps experience for mobile users.
Image source: Tom Barrett
Source(s):
IMDEA Networks Institute