IMDEA Networks has participated in the 'Tech Innovation: Madrid / Boston Connection'
Our representatives had the opportunity to hold several meetings and share experiences with all types of researchers, companies and institutions
04 May 2023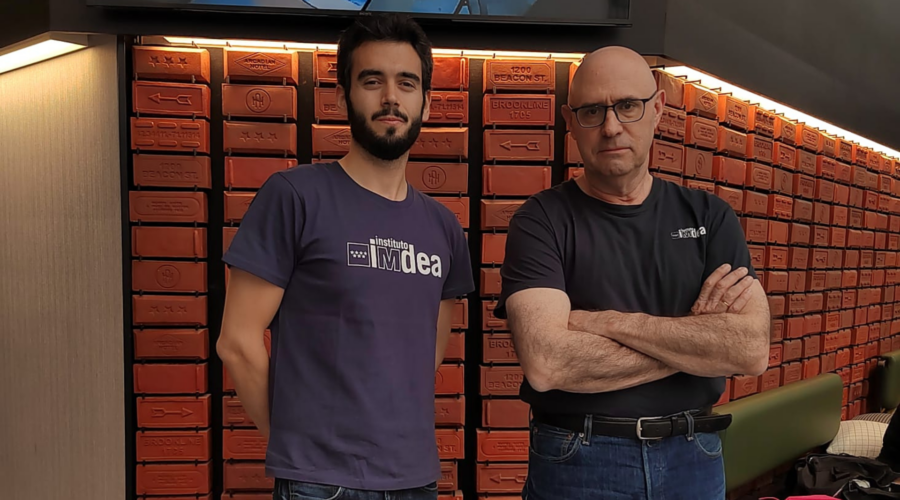 Ramón Girona, General Manager of IMDEA Networks, and Javier Talavante, IMDEA Networks PhD Student and co-founder of the startup LiFi4Food, were part of the group (35 people, 22 technology startups and universities, research centers and technology parks of the Community of Madrid) that participated in the conferences and events of 'Tech Innovation: Madrid/Boston Connection'. This is an initiative funded by the Community of Madrid within the program "Madrid Km 0: Innovation and Startups", through the Vice-Ministry of Universities, Science and Innovation.
Organized in Boston by madrimasd and MIDE (Madrid Innovation Driven Ecosystem), this collaboration platform is intended for all the agents involved in the entrepreneurship and innovation ecosystem in the Community of Madrid with the aim of meeting with local representatives of the Boston area ecosystem to explore synergies, ways of collaboration and share technological and innovation experiences.
The institutional visit (April 24 to 28), in collaboration with the Real Colegio Universidad Complutense de Madrid at Harvard (which celebrated its 30th anniversary that week), offered Javier Talavante the opportunity to attend the GreenTown Labs session with ENEL, while Ramón Girona went to MIT to meet Jess DeLaughter (administrative and financial director of the Sociotechnical Systems Research Center (SSRC), part of the new Schwartzman College of Computing at MIT. Both were also invited to the gala dinner at Harvard's Faculty Club, where they were able to network.
A stimulating environment for the exchange of ideas and projects between startups, universities, research centers and public administration with the participation, on the US side, of personalities such as Santiago Ibañez, specialist in Machine Learning and Data Science and co-founder of two startups incubated at MIT; Shivang Dave, co-founder and CEO of PlenOptika; Professor Fiona Murray, Director of Innovation at MIT Sloan School of Management and Professor of Entrepreneurship at MIT or Mark Sullivan (Massachusetts Office of International Trade and Investment).
The conference included, on April 27, the event 'New Frontiers of Entrepreneurship 2023' with world-class experts such as Professor Bill Aulet, Managing Director of The Martin Trust Center for MIT Entrepreneurship, who spoke about "How Artificial Intelligence can be applied… and change everything".
In short, the agenda included a program with the participation of top professors from Harvard and MIT, professional visits, sessions related to numerous topics of interest, such as entrepreneurship and innovation ecosystems, robotics applied to health, biotechnology, biomed & food innovation, nanotechnology and open innovation, as well as success stories of American and Spanish startups.
Source(s):
IMDEA Networks Institute