"I believe that being able to think using a range of disciplines and see problems from different points of view brings great value as a researcher."
19 September 2013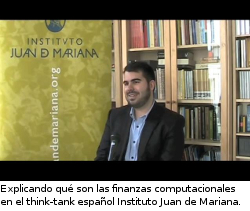 Interview with Jorge Ramón Muñoz, Fulbrighter – PhD Student in Mathematics (Computational Finance) at Purdue University, West Lafayette, Indiana, USA; previously a Research Engineer at Institute IMDEA Networks.
1. To begin this interview, we are curious about how you were called to the life of science. When and why did you decide to become a scientist?
From a young age I have considered myself to be a fairly creative person, who enjoyed learning new things or exploring. However, instead of becoming a scientist, I had always had it in mind to use that creativity to help and motivate others with their businesses.
In my case, the turning point was when, after finishing my first year at university, I was given an Excellence Scholarship from the Community of Madrid. As a direct result I got involved in a research project, as one of the conditions required was the student's participation in scientific tasks in order to obtain the grant. Since then I couldn't stop.
I don't know if it was by chance, coincidence, accident or simply landing in the right department at the right time, but this opportunity showed me the start of which I hope will be a long journey.
2. What training and background do you have as a researcher? What institutions have you been connected to so far?
While I was a student at the Universidad Rey Juan Carlos, I had the opportunity to collaborate in various small projects thanks to the aforementioned Excellence Grants. I started in the department of Computer Languages, passing through, among others, the department of Applied Economics, and ending up in the Communication Systems group.
I have also had the pleasure of working for the CSIC's Institute of Mathematical Sciences thanks to its JAE program, as well as investigating innovation and creative drive policies within a small start-up in Denmark's Copenhagen School of Entrepreneurship.
Perhaps this differs quite a bit from the rest of my colleagues' most common career paths, considering that I always wanted to learn about new fields and work in different research groups, rather than specialize in something very specific. I believe that being able to think using a range of disciplines and see problems from different points of view brings great value as a researcher.
3. How did you get the opportunity to come and work at Institute IMDEA Networks?
After completing my university studies I started to look for research centres which complied with the requirements that I had set: multidisciplinary profile, international, reward quality rather than quantity and with high visibility.
As we Spaniards tend to do, at first I thought that something like this couldn't exist so close to me. So I started to search for centres in countries like the US, China, Germany, Switzerland, Denmark, Finland or Sweden. However much I searched I didn't manage to find something that I liked 100%, and doubts arose.
Since I wasn't able to clarify these doubts, I got in touch with former classmates and teachers to ask for help. Many of them recommended me to take a look at the IMDEA Networks Institute, some were even actively working for it, so I could not resist taking a closer look.
I got in touch with a researcher from the centre, who very patiently tried to clarify all my doubts and even invited me to spend a day at the centre. I loved what I saw. After that visit I did not for a second hesitate in sending my application for one of the open positions at that time and, with a little luck, I got the job.
4. What interested you most about the IMDEA project? What made you want to become involved?
Simply working with professionals from all over the world with very varied profiles, having enough freedom to experiment and a high commitment to the quality of the work produced is more than enough, since this mixture usually accomplishes some very good results.
But if we also add a management team that does everything possible to help us concentrate on our scientific work, the continued influx of lecturers and visiting investigators and a close relationship with many universities/companies, the result is unbeatable.
Therefore, to sum up, the organization within the IMDEA Networks Institute is designed to maximize productivity of the researchers and all this makes it even more attractive to work for.
5. In what research lines have you worked? What specific results do you expect to see?
I am mainly committed to technology transfer. Perhaps this is not the most 'pure' or popular part of science but it is of vital importance for the times we live in. Society has recently realized that this can create strong competitive advantages in the private sector and bring other sources of funding for our research centres. IMDEA Networks has a very clear vision, during my stay I have had a constant feeling that they are working out how to tie investigation into the private sector.
Thanks to this I could collaborate on a project in which we explored new scientific discoveries in areas such as social networks analysis, projected recommendations, or adaptation of algorithms for handling large volumes of data, which we then integrated into the systems of a company dedicated to digital entertainment.
As a direct consequence of this, we could put the latest scientific discoveries into practice, the company acquired the leading tools to add value and compete more efficiently in the market. While, on a personal note, I have learned that there are other less classical ways to carry out scientific work.
6. You have just been awarded a Fullbright Scholarship to study a PhD at Purdue University (Indiana, USA). What department will you join and what will you work on?
I am going to join the Mathematics Department to pursue a Phd in Mathematics and Computational Finance.
My research will be focused on the implementation of automatic processes to minimize risk in investment funds (mainly pension plans). The aim is to achieve, through a series of indicators and methodologies, automatic risk reduction, minimizing the impact of unexpected events while increasing the speed in which the funds may rotate their positions.
7. What are your objectives in the medium and long term?
In the medium term, my aim is to maximize my stay at Purdue to immerse myself in the world of Computational Finance, something that is so unknown in Spain. Also, I would not only like to explore it academically but also practically, and collaborate with any manager who follows this philosophy of achieving a more complete picture of the field.
This is crucial, since in the long term I would like to be able to transfer the knowledge to Spain and devote myself to computational finance both at academic level, training students, and within the private sector, such as an asset manager. Without a doubt it is going to be a very long journey, since it's practically untouched ground in this country, but I am sure that this makes it more comforting.
Source(s):
madrimasd, IMDEA Networks Institute