HyperAdapt project launched to improve mobile Internet traffic
07 October 2015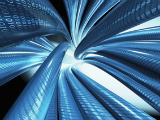 IMDEA Networks Institute announces the launch of the project HyperAdapt. The overall objective of this research initiative is to improve traffic flow in the mobile Internet in response to increasing private and industrial demand.
---
HyperAdapt, which stands for Modeling and Online Performance Optimization of Adaptive Networks, aims at taking Sofware Defined Networks (SDN) to the next level, by exploring the possibilities of making the Internet scalable, manageable and adaptable from an industrial perspective. Solutions in this field may help industries face future scenarios of increased use of wireless Internet: operators will be able to put into effect network applications that increase flexibility and control over current deployments.
The IMDEA Networks researchers, led by Antonio Fernández Anta, will explore and seek to identify extensions worth adding to OpenFlow or any other SDN system. OpenFlow is a relatively new method applied to control network flows. Here it is important to underline that the HyperAdapt research project considers much richer SDN models than those currently offered by OpenFlow, i.e. the controller in the HyperAdapt models has essentially complete information of the state of all network elements, and has full control to change them.
To reach the above mentioned objectives, HyperAdapt will tackle two of the cornerstones in the mobile internet architecture leading us to faster and more powerful mobile networks: intra-domain routing and wireless access solutions.
HyperAdapt is funded by the Spanish Ministry of Economy and Competitiveness (Ministerio de Economía y Competitividad). It will operate during 2015 and 2016.
Source(s):
IMDEA Networks Institute