Ginés García, new PhD student at IMDEA Networks Institute
08 April 2016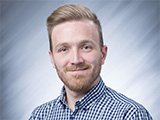 Ginés García Avilés is a new member of the IMDEA Networks research team. He will be joining us as a PhD student from March 2016, supervised by Albert Banchs, Deputy Director of IMDEA Networks and Research Professor at University Carlos III of Madrid. Among his main research interests are Multipath TCP, Transport protocols, Wireless Networks, 802.11aa and Real-time multicast. In relation with his PhD he will be working on the 5G Norma project for which Albert Banchs is the principal Investigator at UC3M.
Prior to his incorporation at IMDEA Networks as a PhD Student, Ginés García worked as an Internship Student in the Engineering Department of IMDEA Networks and at UC3M. He obtained his B.Sc. in Computer Science specializing in Software Engineering from the University of Murcia, Spain, in February 2016. His final project of the B.Sc. dealt with the experimental assessment of various mechanisms for multicast streaming in 802.11aa WLANs. Along with working on his B.Sc. final project, Ginés started to participate on a CISCO-funded project on the performance evaluation of MP-TCP over LISP networks. Both projects were carried out in connection with an internship at UC3M. He is now pursuing his M.Sc. and PhD from the University Carlos III of Madrid (UC3M), both in the field of Telematics Engineering.
PhD Students at IMDEA Networks
Do you also wish to join our team of young researchers? More information in our Careers opportunities pages.
Source(s):
IMDEA Networks Institute