First Prize in Hackathon SAS-Correos goes to joint IMDEA Networks/UC3M multidisciplinary team
26 April 2019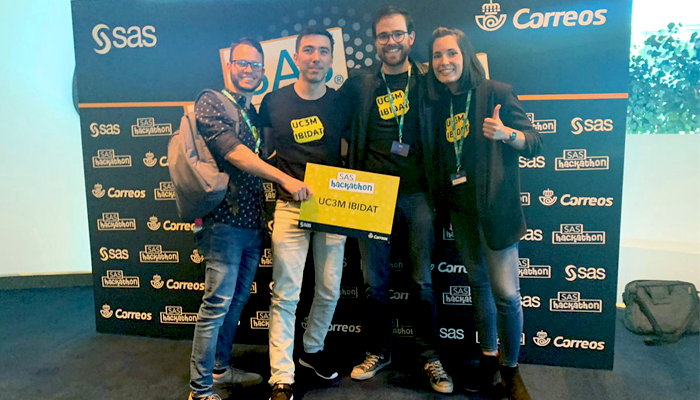 CORREOS and SAS España award a team from IMDEA Networks and University Carlos III of Madrid (UC3M) for the best initiative in Artificial Intelligence applied to environmental efficiency with the aim of improving their service to citizens.
CORREOS (the Spanish national postal service provider) and SAS España (a company specialized in analytics) have celebrated the second edition of the Hackathon SAS-Correos, awarding the best initiatives in Artificial Intelligence applied to the environmental efficiency of Correos. A research team from IBiDat (the Research Institute UC3M-Santander of Financial Big Data) and IMDEA Networks has been awarded the first prize.
The winning team consists of four young doctoral students – Patricia Callejo, Antonio Pastor, Ignacio Martín and Harold Hernández – who carry out studies applicable to multiple areas, such as data analytics, artificial intelligence, machine learning or Open Source software. The challenge brought together a total of 11 participating teams.
Source(s):
IMDEA Networks Institute