Ericsson and Telefonica demonstrate cutting edge transport solution
eXhaul transport solution ready to take on 5G
27 December 2017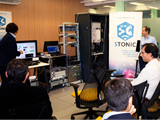 Ericsson and Telefonica have together successfully showcased an Agnostic, 5G-ready Transport Solution for both Radio and Fixed Enterprise Access. It is based on Ericsson's ground-breaking and future-proof eXhaul concept which allows a wide range of transport technologies, including CPRI, eCPRI, and Ethernet, to efficiently and securely share the same physical infrastructure.
eXhaul is a research project aiming at identifying a transport system able to concurrently support any type of fronthaul and backhaul services in different network scenarios deployed by operators. In order to validate and test the new network concept in real use cases, a joint activity was carried out with Telefonica. To support legacy and current mobile systems, such as 3G, 4G, 5G and enterprise connectivity, a convergent infrastructure solution was viewed as a fundamental prerequisite.
eXhaul is a convergent and agnostic transport concept for supporting current and future fronthaul interfaces, e.g. CPRI and eCPRI, Elastic RAN, and Ethernet. It meets the tight requirements of latency, jitter, synchronization, and high capacity required by 5G, and allows for a smooth network evolution towards 5G according to specific operator needs.
The joint activity on the eXhaul concept stems from the participation of Ericsson and Telefonica in the EU H2020 5G-Crosshaul project, where different options for converged fronthaul and backhaul networks were investigated. The activity concluded this year with the development of a Proof-of-Concept targeting 5G Mobile-business convergent services. It was integrated in 5TONIC and showcased on November 16th. The demo highlighted the automatic configuration of enterprises services on the convergent transport for different radio splits, to simplify the operational activities. In the event, an overview of the solution was presented, including research findings that led to the concept development. On top, topics like photonic technologies, networking aspects, control and the migration path from legacy to 5G were highlighted.
eXHaul is also a modular solution that combines the advantages of an agnostic transport system able to support any type of service, with the benefits of WDM networking. This allows transport at a low cost using heterogeneous wavelength channels at any bit rate (10, 25, 50, 100G), thus optimizing the use of installed optical fiber. To achieve this, the following building blocks were addressed to reach the right cost, power consumption, and size targets:
An agnostic (electric) switch, integrated with an optical switch (a mini-ROADM designed for this purpose).
A high-capacity WDM transmission suitable for radio access (i.e. with a suitable cost figure and the required performance).
A smart controller able to suitable mix the different types of fronthaul and backhaul traffic to fulfill radio needs and optimize transport resources.
Moreover, an efficient slicing is provided to simplify the operations. All of the above can be accomplished with any physical topology (e.g. a ring to assure the best resilience, a tree re-using GPON infrastructure, or a bus-like G.metro etc.).
---
5TONIC
5TONIC is an international 5G-technology research and innovation lab in which industry and academia come together to kickstart technology and innovative business ventures. The lab was founded by Telefónica and IMDEA Networks Institute (Madrid), which hosts the main site. 5TONIC researches, field-tests and demonstrates the technologies and equipment needed to support 5G communications, services and applications. 5TONIC combines full members and partners from the telecommunications sector and others.
Source(s):
5G-Crosshaul: 5TONIC