Elizaveta Dubrovinskaya, new PhD student at IMDEA Networks Institute
15 December 2015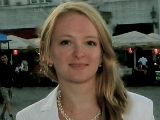 Elizaveta Dubrovinskaya is the newest member of the IMDEA Networks research team. She will be working as a PhD Student from October 2015, as part of the Ubiquitous Wireless Networks Group led by Dr. Paolo Casari, Research Assistant Professor at IMDEA Institute, who will also be her PhD supervisor. Among her main research interests are Underwater Communications, Underwater Localization Algorithms, and Digital Signal Processing. Elizaveta's interest in Underwater Wireless Networks stems from her studies and research activities at Christian-Albrechts Universität in Kiel (CAU).
Before incorporating at IMDEA Networks, she worked as CTO within the telecommunication industry in Estonia Teleone OÜ. Prior to that, she worked as a Research Assistant for the PITAS project at CAU, in Kiel, Germany, from 2011 to 2012. Here she took part in the development of a signal that was meant to localize an underwater mobile object. In collaboration with her supervisor, Dr. Ivor Nissen, she also participated in the creation of a new algorithm to perform silent localization of a mobile underwater object. From 2008 to 2010 she worked as a VoIP Engineer at Interzet ISP in Sankt-Petersburg in Russia.
Elizaveta obtained her diploma degree in Automatics, Telematics & Telecommunications (with honors) from Saint-Petersburg State Transport University in 2008. In 2013, she obtained an additional M.Sc. in Digital Communications. She is now pursuing her PhD in collaboration with IMDEA Networks while at the same time carrying out research activities in the Ubiquitous Wireless Networks Group.
---
PhD Students at IMDEA Networks
Do you also wish to join our team of young researchers? More information in our Careers opportunities pages.
Source(s):
IMDEA Networks Institute