El futuro de Internetworking en ACM CoNEXT 2008
26 November 2008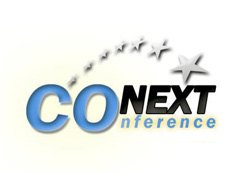 The 4th ACM International Conference on Emerging Networking Experiments and Technologies is an important forum that aims to open up informative and stimulating debates on new network technologies that will shape future Internetworking.
---
CoNEXT is emerging as the leading international forum in the field of research into future network technologies.This year theACM CoNEXT 2008(the 4th ACM International Conference on emerging Networking Experiments and Technologies) is being organised by Madrid's Carlos III University and the Madrid Institute of Advanced Studies – IMDEA Networks, in cooperation with organising committees and scientists from the five continents, representing universities, research institutes, laboratories, businesses and corporations of international renown, under the sponsorship of ACM SIGCOMM.
In previous conferences, CoNEXT successfully promoted original studies and contributed to the integration of the research into networks worldwide.
ACM CoNEXT 2008 has a single-track focus. The conference will feature a technical programme based on a selection of 29 talks from among the 166 initially proposed (a record compared to previous conferences), offering significant opportunities for professional and social interaction among participants. The conference, running from December 10 to 12, will be preceded by three one-day workshops to be held on December 9: CoNEXT Student Workshop, ReArch´08 and Roads'08. In addition, the ACM SIGCOMM Rising Star Award will be presented to a young researcher with a promising future. This prize recognises novel research work in the field of communications networks, acknowledging the depth and impact of the researcher's work.
The main themes of the conference this year are: Internet measurement and modelling, Wireless and mobile networks, Ad hoc and sensors networks, Economic aspects of the Internet, Network security issues, Multimedia networking, Peer-to-peer and overlay networks, Routing and traffic engineering, Delay and disruption tolerant networks, New networking protocols and architectures, Autonomic and dependable communications, and Networked systems applications and services. The conference and workshops provide an opportunity to spark up debates and question-and-answer sessions in which the content of the talks is developed and expanded. For speakers and conference-goers it is a unique chance to share opinions on their research work and adapt and improve their objectives and lines of attack, as well as establish active collaborations and open up new fields of research. For students, in particular, it is an ideal opportunity to establish contacts and identify and compare the methods and fields of research of their senior colleagues, as well as those of other students from both the local region and overseas.
Read more:
Source(s):
madri+d, Madridiario, IMDEA Networks Institute