Dr. Danilo De Donno, new Post-Doc Researcher
23 June 2015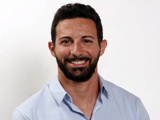 Dr. Danilo De Donno has become a member of the IMDEA Networks research team. He will be working as a Post-Doc Researcher from July 2015, as part of the Pervasive Wireless Systems Group, led by Dr. Domenico Giustiniano, and of the Wireless Networking Group led by Dr. Joerg Widmer, both of them established researchers at the Madrid Institute. His research interests lie broadly in the areas of RFID technology, energy harvesting for wireless sensor networks, ultra-low-power hardware/software design strategies for pervasive computing applications, energy-efficient communication protocols and software defined radio. His professional and academic background is in the fields of RF (Radio Frequency) engineering, circuit design and wireless communications, including antenna theory and design, Radio-frequency identification (RFID) transceiver design, and mobile networks.
Danilo undertook his university education in Italy. He earned his Bachelor's Degree in Telecommunications Engineering from the Politecnico di Milano in 2005 (B.Sc. thesis: "60-GHz Indoor Radio Propagation: Analysis by Ray-Tracing Simulations"). In 2008, he obtained a Master's degree in Telecommunications Engineering from the same university (M.Sc. thesis: "Optimization of Gateway Positions in Wireless Sensor Networks: Models and Algorithms"). In 2012, he completed a Ph.D. in Information Engineering at the Innovation Engineering Department of the University of Salento, at Lecce (PhD thesis: "EM Enabling Technologies for Smart Wireless Systems: SDR, RFID, and GPU computing").
From July to December 2011, Danilo was a Short-Term Scholar at the School of Electrical and Computer Engineering of the Georgia Institute of Technology (Atlanta, GA, USA). After that and for a period of 3 years (June 2012 to June 2015), he went back to Italy to work as a Postdoctoral Fellow at the Electromagnetic Lab Lecce (EML2), based in the University of Salento.
---
Post-Doc Researchers at IMDEA Networks
Would you like to join our team of young researchers? More information in our Careers opportunities pages.
Source(s):
IMDEA Networks Institute