Dr. Adrian Loch, new Post-Doc Researcher
30 April 2015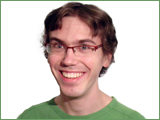 Dr. Adrian Loch has become a member of the IMDEA Networks research team. He will be working as a Post-Doc Researcher from April 2015, as part of the Wireless Networking Group, led by Dr. Joerg Widmer, Research Professor at the Madrid Institute. His main areas of interest lie in cooperative communication for both wireless access and wireless multihop networks, including routing issues as well as practical validation on wireless testbeds.
Adrian graduated in Electrical Engineering from Universidad Politécnica de Madrid (ETSIT UPM) (Spain) and Technische Universität Darmstadt (Germany) in 2011, after completing an international double degree program. In March 2015 he obtained his PhD in Computer Science from Technische Universität Darmstadt. During his PhD he was a research associate at the Secure Mobile Networking Lab, contributing to the Research Priority Program Cocoon.
His work on practical advanced physical layers for wireless networks has been awarded with the Best Paper Award at WoWMoM 2014, the Best Poster Award at WoWMoM 2014, and the Best Demo Award at WoWMoM 2013. Earlier, he achieved the Best Master Thesis Award of the Fakultätentag Informatik (Germany-wide), and of Datenlotsen Informationssysteme (university-wide).
---
Post-Doc Researchers at IMDEA Networks
Would you like to join our team of young researchers? More information in our Careers opportunities pages.
Source(s):
IMDEA Networks Institute