Demonstrating a 5G future
5TONIC Laboratory showcases 5G technology demonstrations to GSMA strategy group Chair
14 August 2018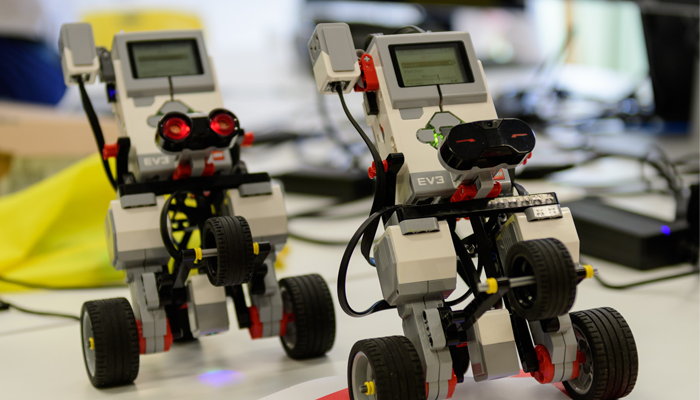 The 5TONIC co-creation laboratory recently gave an impressive demonstration of future 5G use cases to Julio Linares Lopez, chair of the GSMA's strategy group and member of its Board. A group of 5TONIC's senior executives from the member companies attended the event and presented the latest working examples of how 5TONIC is investigating the potential of 5G technology to drive new use cases in vertical markets.
---
The first demo was developed in co-operation with Autonomously Guided Vehicle (AGV) specialists ASTI Mobile Robotics and showcased the ability to control and guide AGVs from a Multi access Edge Computing (MEC) platform over a low-latency LTE network set up to emulate 5G radio performance.
The vehicles used in the tests are capable of transporting very heavy loads around large factories with great precision.  The demonstration highlighted that deploying edge computing is the only way to provide the ultra-low latency required for the precise manoeuvring of industrial vehicles.
Another MEC application using real-time facial recognition was also demonstrated to the group. This highlighted the viability of using real time continuous video processing to enhance the control process for guiding the next generation of AGVs.
5TONIC also showcased to the group its latest developments in high frequency radio technologies – an essential component of future 5G communications – as well as a low-cost system that surveys the use of the radio spectrum over a wide range of frequencies.  Originally designed for military application, the ability to survey and monitor spectrum usage will be immensely valuable in the deployment of 5G networks – in particular when monitoring usage across network 'slices'.
The quick and efficient deployment of advanced systems like the ones demonstrated at the 5TONIC laboratory will require new network orchestration mechanisms such as those developed for the 5G CORAL project in Taiwan.  The team was able to demonstrate to Mr. Linares and to the 5TONIC steering board members how closely involved the laboratory has become with a wide range of European and International 5G projects.