IMDEA Networks Scientist joins future Internet body
18 February 2008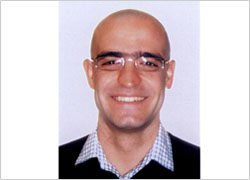 Gonzalo Camarillo, a member of the Scientific Council of IMDEA Networks, has been appointed as a member of the Internet Architecture Board (IAB) – a body of 12 experts who play a major role in the evolution of the Internet. The IAB is a committee of the Internet Engineering Task Force (IETF) that oversees the technical and engineering development of the Internet by the Internet Society (ISOC).
Camarillo is a leading researcher of the mobile internet. He has been a prime mover in the development of the technologies that will deliver true multi-media services to mobile devices. These will soon be giving us all access to web, email, instant messaging and videoconferencing when we are on the move. In 2004 he co-authored the best-selling book "The IP Multimedia Subsystem (IMS)" with Miguel-Angel Garcia-Martin that has since become a reference for mobile internet development. In addition to his work as an IMDEA scientific expert and on standard-setting bodies such as IAB, Gonzalo Camarillo is the head of the Multimedia Research Laboratory in Ericsson, Finland. He received M.Sc. degrees in electrical engineering from the Stockholm (Sweden) Royal Institute and from Universidad Politecnica de Madrid (Spain).
IMDEA Networks Director, Professor Dr. Arturo Azcorra explained the significance of Camarillo's work. "We warmly congratulate Gonzalo Camarillo on this appointment. He is a force for technological changes that will impact people's lives in a positive and profound way. It is no surprise that his continued contribution to the future Internet should be so rewarded. We are honored that such a respected scientist as Gonzalo is associated with IMDEA Networks. In fact, Gonzalo is the third member of our Scientific Council to have been appointed to the IAB in recent years, the other two being Professor Jon Crowcroft of Cambridge University and Professor Lixia Zhang of UCLA. We believe that the future Internet is the future of IMDEA Networks".
ABOUT IMDEA NETWORKS
IMDEA Networks is an international research institute supported by the Regional Government of Madrid and the European Commission. The Institute brings together distinguished and young scientific researchers to develop cutting-edge science and technology in the field of networking. Promoting interdisciplinary collaboration, the Madrid-based Institute works in partnership with leading businesses and scientists from around the globe. By generating new knowledge and understanding through its activities, the Institute supports the continued development of Madrid and Spain as a centre for international scientific and technological research.
CONTACT INFORMATION
IMDEA NETWORKS
Avda del Mar Mediterraneo, 22
28918 – Leganés
Madrid (Spain)
If you would like more information about this topic, please email:
Liz O'Neill
elizabeth.oneill@imdea.org