UC3M-Banco Santander Chair of Excellence grantee becomes Visiting Professor at IMDEA Networks
28 September 2016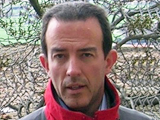 Prof. Dr. Roberto Battiti has been appointed to the eminent role of Cátedra de Excelencia (Chair of Excellence) by University Carlos III of Madrid, sponsored by Banco Santander. He has joined IMDEA Networks Institute as a Visiting Professor during his semester in Madrid.
---
The University Carlos III of Madrid (UC3M) has announced that Dr. Roberto Battiti, Full Professor of Computer Science as well as Director of the 'LION lab (machine Learning and Intelligent OptimizatioN) for prescriptive analytics' at Università degli Studi di Trento (Italy), is the recipient of a UC3M-Santander Chair of Excellence for a six-month period commencing on September 2016. The Chairs of Excellence program, which counts with the financial support of Banco Santander, aims to boost the UC3M's research profile worldwide through the incorporation of internationally distinguished professors in all disciplines. Dr. Battiti is also joining IMDEA Networks Institute as a Visiting Professor during this period.
A renowned networking scientist, Dr. Battiti has outlined an ambitious research plan for his stay. The first direction he expects his work to take is to explore machine learning and optimization methods for a possible application in the cross-layer optimization of the overall communications network. With the objective of identifying specific areas of investigation in this area, Dr. Battiti will work in collaboration with experts in networking science from UC3M and IMDEA Networks, taking into consideration the most recent research results of the Madrid-based researchers as well as those of the global telematics community.
Dr. Battiti has detailed the steps in which he will break down this research. In the first place, machine learning from usage data related to demand, energy consumption and quality of service in different conditions is performed. This is critical to develop dynamic models. Secondly, when the first models are available, a fast optimization process can act on the models, for example, to relocate the capacity of the backhaul/fronthaul to a different link in case the current situation requires it. Finally, after initialization, the machine learning plus the optimization process run continuously, so that the dynamic models can be updated to reflect the current situation of the network and automated reallocation schemes can improve the overall quality measures. The dynamic capacity reconfiguration should happen in real-time, aiming at improving critical measures, energy efficiency and quality of service.
As part of this work, Dr. Battiti will be mentoring one of IMDEA Networks' PhD Students (Nuria Molner) in her work on the optimization of an integrated fronthaul/backhaul network for hard real-time traffic. The essentially collaborative nature of research work will lead him to interact with students and researchers to discuss possible innovation and startup ideas. He hopes some of those may become concrete.
Dr. Battiti is recognized for his outstanding publication record, his influential research and his dedication to scientific service activities. The "Chair of Excellence" honors him for his success in promoting networking science research and his dedication to the organization of research initiatives in the area of reactive search optimization (RSO) and learning and intelligent optimization (LION) heuristics.
Dr. Battiti follows in the footsteps of over 100 prominent academics to have benefited from the UC3M program, 8 of which have also joined IMDEA Networks as Visiting Professors. These collaborations have greatly contributed to strengthening the Institute's international ties, developing stable partnerships, sharing research experiences and mutually improving scientific and technical knowledge and capabilities.
Source(s):
IMDEA Networks Institute