Amanda García-García, new Research Engineer
21 March 2017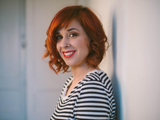 Dr. Amanda García-García has joined the research engineering and support team at IMDEA Networks. She will be working within the Wireless Networking Group led by Dr. Joerg Widmer.
---
Her work will focus on the experimental activities carried out at the millimeter-wave networking lab. She will provide crucial engineering support to the pre- and post-doc researchers working in this area in order to advance the development of the lab's testbed and experimental prototypes.
Amanda received her BSc in Telecommunications Engineering (Major in Radio-frequency Engineering) in 2011, and her MSc in Communications Technologies and Systems in 2013, both from the Polytechnic University of Madrid (Spain). She went on to obtain a PhD degree also on Communications Technologies and Systems at the same institution in June 2016. Her PhD work focused on the study of liquid crystal technologies for telecommunication devices doped with nanoparticles. To this end, she studied the topic from four perspectives, namely, electronics, optics, chemistry, and physics.
Her main research interests currently are RF Engineering, Millimeter-Wave Communications, High Frequency Antenna Design and Device Fabrication.
---
Would you like to join our team of technical and professional experts to support ongoing research efforts at IMDEA Networks? More information about job opportunities for Research Engineering & Support personnel at IMDEA Networks here.
Source(s):
IMDEA Networks Institute