5TONIC joins Hexa-X project to set the path for the next generation of mobile communication networks beyond 5G
The project will have 30 months duration and a budget of almost 12 million € and will be a completely new ecosystem to connect human, physical, and digital worlds through mobile communications
03 February 2021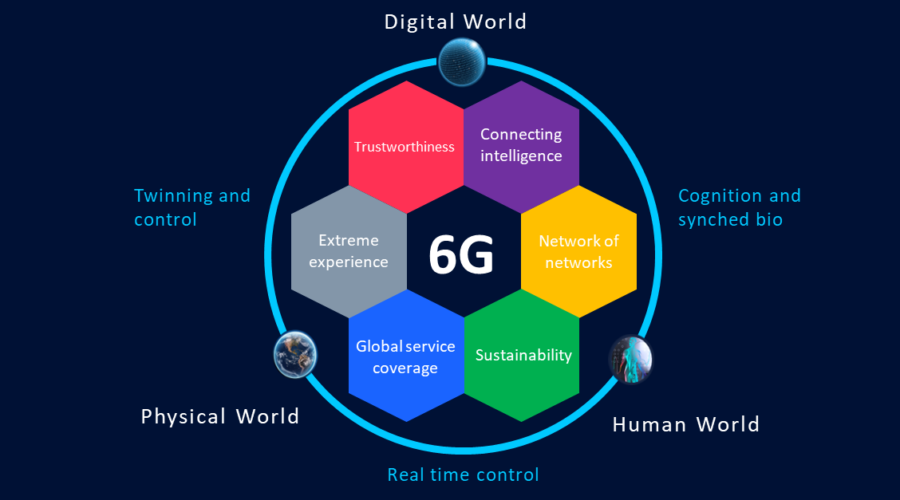 The start of the year has been the starting point of the Hexa-X project, a flagship project in which 5TONIC is deeply involved, paving the way to the next generation of mobile networks (Hexa) by explorative research (X), with the vision to connect human, physical, and digital worlds with a fabric of 6G key enablers.
While 5G is enabling us to consume digital media anywhere, anytime, the technology of the future should enable us to embed ourselves in entire virtual or digital worlds. In the world of 2030, human intelligence will be augmented by being tightly coupled and seamlessly intertwined with the network and digital technologies. With advances in artificial intelligence, machines can transform data into reasoning and decisions that will help humans understand and act better in our world.
As the domestic and industrial machines of today transform into swarms of multi-purpose robots and drones, new man-machine haptic and thought interfaces to control them from anywhere should become an integral part of the future network. Hexa-X envisions a future in which everyday experience is enriched by the seamless unification of the physical, digital, and human worlds achieved through the new network and device technologies. Such a transformation will undoubtedly generate unprecedented economic opportunities and societal challenges towards the 2030 timeframe; moreover, they will call for a fundamental shift in the way mobile networks are designed. Multiple key requirements must be reconciled: to serve the massively growing traffic and the exploding numbers of devices and markets, while accomplishing the highest possible standards regarding energy efficiency, strong security, and efficiency in deployment (coverage) and operation, for enabling sustainable growth in a trustworthy way.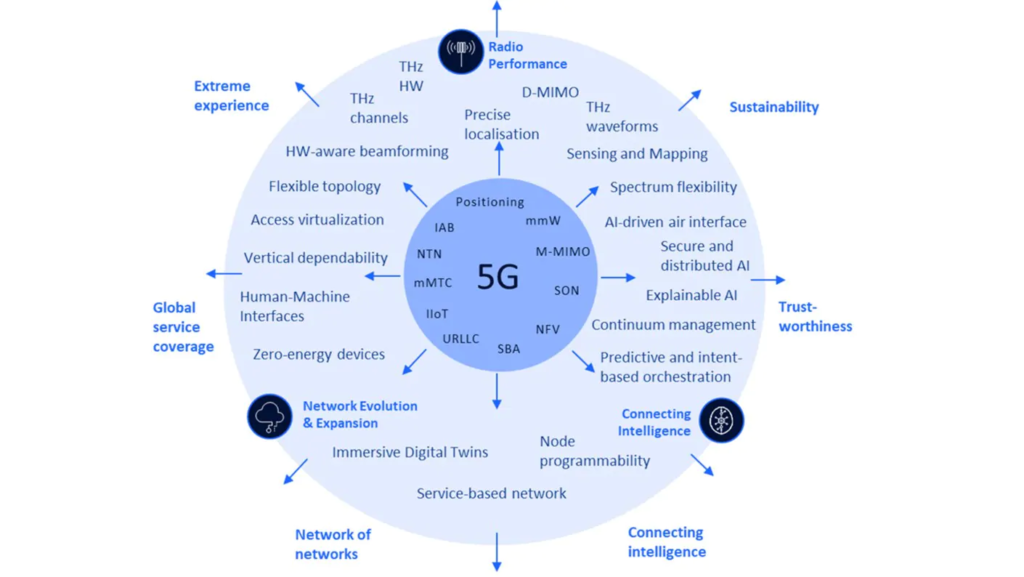 The Hexa-X consortium has 25 partners (including 5TONIC members Telefónica, Universidad Carlos III Madrid and Ericsson), bringing together the key industry stakeholders in Europe, along with the full value-chain of future connectivity solutions ranging from network vendors, operators, verticals, and technology providers, as well as the most prominent European research institutes and universities in this domain. The partners have identified six main research challenges, which must be addressed to lay the technical foundation for the mobile network systems of the B5G/6G era:
Connecting intelligence: B5G/6G shall assume a crucial role and responsibility for large-scale deployments of intelligence in the wider society. B5G/6G shall provide a framework to support, enhance and, ultimately enable real-time trustworthy control – transforming AI/Machine Learning (ML) technologies into a vital and trusted tool for significantly improved efficiency and service experience, with the human factor ("human in the loop") integrated.
Network of networks. B5G/6G shall aggregate multiple types of resources, including communication, data and AI processing that optimally connect at different scales, ranging from, e.g., in-body, intra-machine, indoor, data centres, to wide areas networks. Their integration results in an enormous digital ecosystem that grows more and more capable, intelligent, complex, and heterogeneous, and eventually creates a single network of networks. It will serve various needs, support different nodes, and means of connectivity, and handle mass-scale deployment and operation fulfilling a large diversity of requirements with utmost (cost) efficiency and flexibility, promoting business and economy growth and addressing major societal challenges, like sustainable development, health, safety, and digital divide.
Sustainability. B5G/6G shall transform networks into an energy-optimised digital infrastructure and will deeply revise the full resource chains of mobile networks for reduced global ICT environmental footprint. Its digital fabric shall also create the ability to sense and understand the state of the physical world in real-time and as such boost sustainability from the environmental, economic, and social perspectives – delivering effective and sustainable digitisation tools for EU and global industry, society and policy makers, bring UN SDGs to life and assist the implementation/operation of EU Green Deal, in particular after the Covid-19 pandemic, towards a circular economy and a sustainable Europe.
Global service coverage. B5G/6G shall put digital inclusion as one of the top priorities and encompass efficient and affordable solutions for global service coverage, connecting remote places, e.g., in rural areas, transport over oceans or vast land masses, enabling new services and businesses that will promote economic growth and reduce digital divide as well as improving safety and operation efficiency in those currently under-/uncovered areas.
Extreme experience. B5G/6G shall provide extreme bitrates, extremely low (imperceptible) latencies, seemingly infinite capacity, and precision localisation and sensing, pushing the performance of networks a leap beyond what is possible with 5G, unlocking commercial values of new technologies, and accelerating the pace of digitisation.
Trustworthiness. B5G/6G shall ensure the confidentiality and integrity of end-to-end communications, and guarantee data privacy, operation resilience and security, building trust of mobile networks as well as its enabled applications among consumers and enterprises. This will translate into the support and promotion of European values of security, trust, and privacy protection as well as the technological EU sovereignty goal for fostering an open, trustworthy, and deeper democratic Europe in the digital age.
The Hexa-X project ambition includes to develop key technology enablers in the areas of (i) fundamentally new radio access technologies at high frequencies and high-resolution localization and sensing; (ii) connected intelligence though AI-driven air interface and governance for future networks, and (iii) 6G architectural enablers for network disaggregation and dynamic dependability. The project will have 30 months duration and a budget of almost 12 million €.
---
About 5TONIC
5TONIC was initiated by Telefónica and IMDEA Networks Institute with a clear vision to create an open research and innovation ecosystem laboratory in which industry and academia come together to boost technology and business innovative ventures. The laboratory promotes joint project development, joint entrepreneurial ventures, discussion fora, events and conference sites, all in an international environment of the highest impact. 5TONIC serves to show the capabilities and interoperation of pre-commercial 5G equipment, services and applications, by leading global companies in the 5G arena. The laboratory was recently awarded Digital Innovation Hub status by the European Commission.