ERC Grants (2012-2019)
European Fundings
Financed by:
European Union. European Research Council (ERC Grants)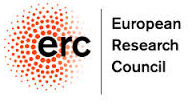 Europe currently offers insufficient opportunities for young investigators to develop independent careers and make the transition from working under a supervisor to being independent researchers in their own right. This structural problem leads to a dramatic waste of research talent in Europe. It also limits or delays the emergence of the next-generation of research leaders, who bring new ideas and energy, and it encourages highly talented researchers at an early stage of their career to seek advancement elsewhere.
ERC grants are the best-endowed individual grants for researchers in Europe and a major indicator of excellence in scientific research. Competitive applicants must have already shown a high potential for independent research and evidence of scientific maturity. Scientific excellence in fundamental research is the sole criterion for the selection of proposals by a panel of international experts. ERC grants have been operating since 2007 and aim to support internationally recognized scientists performing cutting-edge research in Europe. The projects awarded are characterized by having a strong multidisciplinary nature and innovative applications in emerging fields. ERC Starting Grants are designed to support researchers with two to seven years of experience since completion of their PhD (or equivalent degree) and a scientific track record showing great promise. ERC Consolidator Grants are for more senior researchers, with seven to twelve years research experience. They are designed to support researchers at the stage at which they are consolidating their own independent research team or programme.