Career information
What difference will you make to the Science of Networks?
IMDEA Networks Institute is establishing itself internationally at the forefront in the development of future network technologies and has already incorporated highly-reputed scientists. Future Internet Protocols are being shaped by IMDEA Networks Institute's international team of researchers.
Our research team ranges from eminent, prize-winning thought leaders to talented post-graduate Ph.D. students.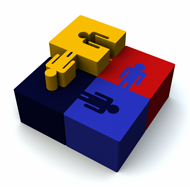 We welcome brilliant people from all parts of the World, with diverse backgrounds, experience, skills, research interests, and ambitions. They all share the desire and ability to make a positive difference in research targeted to develop cutting-edge fundamental science and technology in the area of networking.
Whether you're an experienced researcher who is looking for a leadership role or a researcher at the start of your career and wanting to develop your innovative ideas, IMDEA Networks Institute has a place for you.
Here, in Madrid, you'll enjoy:
A challenging vision with clear, well-focused, research ideas
Working with a team of world-class researchers
A work environment that is demanding, participative, stimulating, and fun
Full administrative support, freeing you to focus on your research activities
The unrivaled quality of life in the Madrid region
Internationally-competitive salaries
A share of IPR revenues arising from your work here
Full support to transfer your results to industry, or to start up your own company
Take a look at the unique opportunities we offer:
Research Professor (US academic equivalent – Full Professor 'with chair'): Research Professors are our most published and cited researchers. They are recognized as respected leaders in their field of research. They have already made a difference. Their expertise and research interests have a significant impact on the Institute's scientific output and the careers of their charges.
Research Associate Professor (US academic equivalent – Associate Professor): Research Associate Professors are typically researchers with several years' experience who are ready for a change, assuming a position of responsibility in leading the day-to-day activities of our research teams.
Research Assistant Professor (US academic equivalents – Assistant Professor – tenure track): Research Assistant Professors at IMDEA Networks Institute are bright researchers at the beginning of their research career, who want to establish a strong research group based on their research vision. They lead their own team of PhD Students and post-doctoral researchers and collaborate with top Research Associate Professors. Research Assistant Professors are not required to teach, so they can focus full-time on research if they so wish.
Post-Doc Researcher: Post-doctoral Researchers at IMDEA Networks Institute are early-stage, post-doctorate researchers who are looking to establish their research career, working with top research associate professors and a team of young, pre-doctorate researchers.
Visiting Professor (US academic equivalent – Visiting Professor/Researcher): Visiting Professors share our research interests and spend their sabbatical with us for either one or two terms. They usually have several years' post-doctoral research experience and are interested in extending their horizons with a temporary assignment in a new environment.
PhD Student: Our PhD Student positions offer young, aspiring researchers a salaried position in our research team. Candidates offered a position as IMDEA Networks PhD Students will have been pre-vetted and conditionally accepted for a place on the Ph.D. program at UC3M or some other top university in Madrid*, subject to your satisfactory completion of the corresponding Ph.D. application form. *Please be aware that IMDEA Networks does not issue degrees and that, in most cases, as a UC3M PhD candidate you will be required to complete at least one year of masters courses, even if you already hold a master's degree. (Other universities may apply different criteria.)
Research Engineering & Support: Research engineers and support staff are dedicated to supporting the continued growth in our research capacity and maximizing the impact of our research output. They provide specific technical and professional expertise and assistance to ongoing research endeavors in a variety of ways, either at the level of the entire Institute or working closely with researchers and their groups. There are roles with an engineering background that take care of the design, installation, and maintenance of the IT infrastructure. Other roles may, for instance, provide administrative or operational support to project or lab management.