What is Spotify and how it works?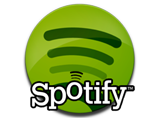 Pablo BARRERA, Backend Engineer, Spotify
External Presentation (External Speaker)
​At Spotify we try to connect millions of people with their favorite music and build the best music service in the world. We believe that music should be easily accessible and than listening to music improves everybody lives. But achieving this goal is not easy and our team needs to face all kind of problems: from scalability issues to coordinate 200 engineers working together. One of our backend engineers will talk about how Spotify solves these issues from the moment you press Play.
About Pablo Barrera
Pablo Barrera is a Backend Engineer at Spotify. He works in the Infrastructure Tribe and his main project right now is to build an efficient data delivery platform involving several remote data centers. Before joining Spotify he worked in the start-up Zhilabs, where he analyzed all data transfered in the network of tier-1 operators. He got a Telecommunication Engineer degree at Universidad Carlos III de Madrid and a PhD in Computer Science at Universidad Rey Juan Carlos.
Pablo Barrera González's public profile on Spotify
This event will be conducted in English