The Routing Continuum in Wireless Sensor Networks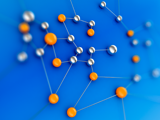 Omprakash Gnawali, Assistant Professor, University of Houston, USA
External Presentation (External Speaker)
Traditional distance vector routing and efficient flooding-based routing can be considered the two ends of the routing continuum in wireless sensor networks. The former uses a graph metaphor to find the best paths between the end-points in a network. The latter does away with proactive paths and instead uses efficient flooding to reach the destinations efficiently and quickly. In this talk, I will describe these two types of routing systems I have worked on. I will share how deployment experiences shaped the design of these systems and led to the emergence of network systems that combine these two philosophies.
About Omprakash Gnawali
Omprakash Gnawali is an Assistant Professor at the University of Houston, USA. He was a Postdoctoral Scholar at Stanford University, got his Ph.D. from the University of Southern California, and received his Masters and Bachelors degrees from the Massachusetts Institute of Technology. His research lies at the intersection of low power wireless networks and embedded sensing systems.
This event will be conducted in English