The electromagnetic spectrum: from FM radio to the Internet of Things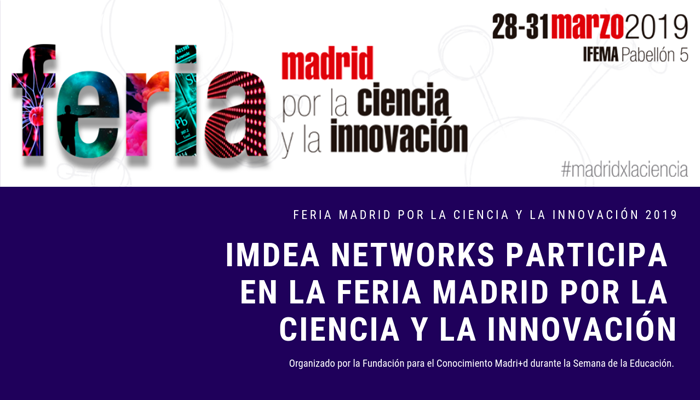 Representatives from the IMDEA Networks research and communication teams
In-house Presentation
IMDEA Networks joins The Madrid Fair for Science and Innovation,  the leading national event for the dissemination of science and research, that is organized by the Madri+d Foundation for Knowledge. IMDEA Networks is putting on a demo that will encourage attendees to explore from the workings of FM radio, with which we are all familiar, to the Internet of Things, at the cutting edge of technological innovation.
IMDEA Networks, which conducts research in computing and communication networks, will explain the operation and applications of one of the fundamental components of wireless communication: the electromagnetic spectrum. Visitors to the IMDEA stand will see what happens when, as listeners, we turn on the radio and voices travel through the airwaves all the way to our ears. Participants will observe in real-time the flightpaths of aircraft flying over Spain. And by entering a virtual reality environment, they'll discover how wireless networks work.
IMDEA Networks shares a stand with the other institutes of IMDEA – the Madrid Institutes of Advanced Studies initiative. The IMDEA institutes will each be presenting interactive activities around the areas of knowledge that are the object of their studies: water, food, energy, materials, nanoscience, networks and software.
The Madrid Fair for Science and Innovation, is part of the STEMadrid Plan of the Autonomous Community of Madrid. The Community's main aim is to strengthen young people's interest in the study of the various branches of science and technology.
More Info: