Talk: CloudNet: Enterprise Ready Virtual Private Clouds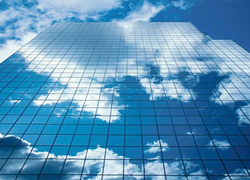 Dr. K. K. Ramakrishnan, AT&T Labs Research.
External Presentation (External Speaker)
Cloud computing has great potential to change how enterprises run and manage their IT systems. Cloud computing platforms provide customers with flexible, on demand resources at low cost. However, while existing offerings are useful for providing basic computation and storage resources, they fail to provide the security and network controls that enterprise customers need. The CloudNet architecture provides more comprehensive control over network resources and security for users by utilizing Virtual Private Networks to securely and seamlessly link cloud and enterprise sites. CloudNet incorporates VM migration over WANs. CloudNet's capability for WAN migration transforms the scope of provisioning from a single data center to multiple data centers spread across the country or the world. This will open new opportunities for cross data center load balancing and dynamic application placement based on metrics like latency to users or energy cost. It also provides the foundation for a range of Disaster Recovery solutions. (The talk is based on joint work with Timothy Wood (UMass), Jacobus van der Merwe (AT&T Labs Research), and Prashant Shenoy (UMass) ).
Who is Dr. K. K. Ramakrishnan?
Dr. K. K. Ramakrishnan is a DMTS with AT&T Labs Research. He joined AT&T Bell Labs in 1994 and has been with AT&T Labs-Research since its inception in 1996. Prior to 1994, he was a Technical Director and Consulting Engineer in Networking at Digital Equipment Corporation. Between 2000 and 2002, he was at TeraOptic Networks, Inc., as Founder and Vice President. K.K. is an IEEE Fellow and an AT&T Fellow, recognized for his contributions to communications networks, including congestion control, traffic management and VPN services. K. K. received his MS from the Indian Institute of Science (1978), an MS (1981) and Ph.D. (1983) in Computer Science from the University of Maryland, College Park, Maryland, USA.
The conference will be conducted in English