Talentum Startup Internships Event 2014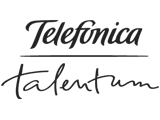 Major Event (Highlighted Event)
On December 4th, 2014, IMDEA Networks and Telefonica, in collaboration with the SEPI* Foundation, launch a new edition of the Talentum Startups program. Students must register online (see below) for this event. After an informative session about the specific opportunities associated to these job opportunities, those who are interested in participating will perform a technical test lasting approximately 1 hour.
Telefónica Talentum Startups is a comprehensive program intended to find and attract talent within Spain. It is a funded scholarship plan that seeks to promote innovative young talent, providing the tools and support needed to encourage them to participate in the creation of a new European digital world. Through practical training, this scholarship program offers university students with entrepreneurial skills the opportunity to experience at close-hand the realities of professional life, thus encouraging their early integration into the labor market. Internship students at IMDEA Networks will receive tutored practical training at the same time as performing tasks to support advanced research projects in the field of information and communications technology (ICT).
Event agenda
12:45 Registration and reception
13:00 Welcome
D. Daniel Segovia, Director of the Higher Polytechnic School, University Carlos III of Madrid
13:10 Presentation: Telefónica
Dña. Rosalía O'Donnell Baeza, General Manager of New Ventures Telefónica S.A.
13:25 Presentation: IMDEA Networks
D. Arturo Azcorra, Professor of Telematics Engineering at the University Carlos III of Madrid – Director of IMDEA Networks
13:40 Video
13:50 Closing
14:00 Test
(This event will be conducted in English)