Science and Innovation Week 2021: An Internet of Things System for Timely Wildfire Monitoring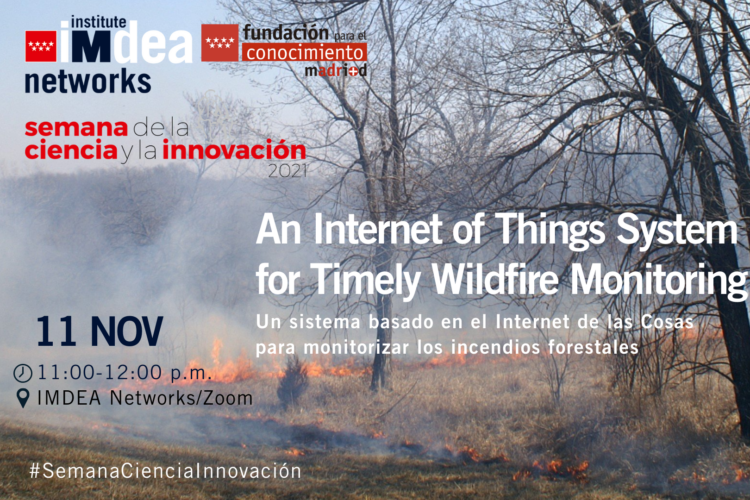 Katia Obraczka, Visiting Professor at IMDEA Networks
Major Event (Highlighted Event)
In recent years, destructive wildfires have caused catastrophic damages in many parts of the world. This summer, Ávila suffered one of the worst fires in the history of Castilla y León. Wildfires are anticipated to grow in frequency and intensity in the coming years due to climate change and shifting urbanization patterns.
In this educational talk, Prof. Katia Obraczka will describe PANTHER (Persistent Autonomous Monitoring for Timely Detection of Wildfires), an energy-efficient IoT (Internet of Things) system designed to be deployed in remote areas to monitor environmental conditions conducive to wildfire initiation and growth, as well as support wildfire mitigation and preparedness efforts.
About Katia Obraczka
Katia Obraczka is a Professor of Computer Science and Engineering at UC Santa Cruz. Prof. Obraczka's research interests span the areas of computer networks, distributed systems, and Internet information systems. She is currently serving as Associate Editor for the IEEE Transactions on Mobile Computing as well as ACM Letters in Computer Science. She is a Fellow of the IEEE and has recently received the Chair of Excellence University Carlos III of Madrid and Banco Santander 2020-2021 and the INRIA International Chair 2021-2025 awards.
This event will be conducted in English
---
More info
Time: 11:00 – 12:00
The event will be held at IMDEA Networks headquarters. The capacity is 40 people due to the restrictions imposed by COVID-19. All safety measures will be maintained, a distance of 1.5 meters and masks will be mandatory. In addition, it will be possible to follow the event via streaming through Zoom.
Register here: https://forms.gle/NezPLiQNfwKyP5nq6
For further information, please contact: mediarelations.networks@imdea.org
---