Researchers' Night 2013 – Science in Your Living Room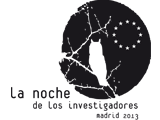 Major Event (Highlighted Event)
Find out what's inside a cellphone, a television set, the human body, … with the help of researchers from the IMDEA Institutes.
Discover the huge amount of science and technology that surrounds our lives, making them more comfortable, simpler and safer, and meet those who are engaged in advancing science and technology every day.
Science in Your Living Room is the activity of the IMDEA Institutes in European initiative The Researchers' Night 2013. Its main objective is to present to the public the large amount of science and technology involved in almost every object and service around us. The audience is invited to interact and discover the appeal of the work of the researchers. The goal of this activity is to analyze, with the help of the audience, how different our life would be without science, stress the importance of science and technology for social welfare, and show how rewarding and interesting is getting involved in science and technology.
With the help of scientists and amateur actors José Manuel Torralba and Ignacio Martín Bragado —masters of ceremonies of the activity—, researchers from the IMDEA institutes will play the role of inhabitants of a typical living room of the XXI century. They will show the scientific insides of many common objects in our lives: a TV set, a computer, a phone, a glass of water, a sandwich, a pair of sneakers, etc.
In addition, the researchers will comment on their personal experiences, and what inspired them to pursue a scientific career. They will describe their experiences abroad and in Spain. They will try to show that anyone can succeed with enough effort. It does not take a genius of the type shown in movies, who forgets to eat. It is sufficient to know that if you want and you try, you can do a good job devoting yourself to what you like.
FREE ENTRANCE UNTIL FULL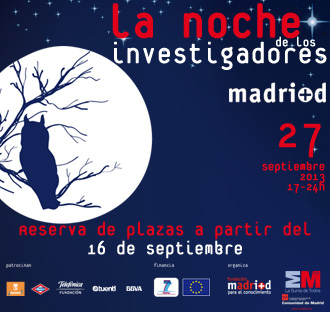 Detailed schedule:
18:00 – 20:00 h. Presentation of researchers and classroom objects.
20:00 – 20:45 h. The audience joins the researchers in the living room and try to better understand what they do and why they do it.
20:45 – 21:00 h. The masters of ceremonies make their farewell to the assistants on behalf of all the researchers, with the hope that Casablanca's sentence "This is the beginning of a beautiful friendship" become true.
Audience: General public.
Researchers involved: José Manuel Torralba, Ignacio Martín Bragado, Manuel Carro, Carolina Inés Dania, Jorn K. Gruber,César Kunz, Amor Larrosa Guerrero, María Leal Meca, Viviana Loria Kohen, Vincenzo Mancuso, María Virtudes Martínez Hernández, Rodolfo Miranda, Guillermo Reglero, Julian Samborski-Forlese & Francesco Visioli.
Contact information:
Telephone: 91 481 69 78
Email: begona.moreno@imdea.org
Webs: http://www.imdea.org/es and http://www.madrimasd.org