Peer-to-peer Session Initiation Protocol (P2PSIP)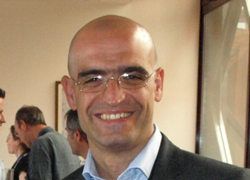 Gonzalo Camarillo (Ericsson Research)
External Presentation (External Speaker)
This talk will introduce P2PSIP (Peer-to-peer Session Initiation Protocol) technologies, including the most common protocols and algorithms. The talk will also discuss the performance of these technologies in different network settings and the tradeoffs associated with deploying P2PSIP systems. Additionally, the talk will cover issues related to security and NAT traversal.
Who is Gonzalo Camarillo?
Gonzalo Camarillo works for Ericsson Research in Finland. He received M.Sc. degrees in electrical engineering from the Stockholm (Sweden) Royal Institute of Technology and from Universidad Politecnica de Madrid (Spain). His research interests include signaling, multimedia applications, transport protocols, and networking architectures. He has authored a number of RFCs, books, patents, and scientific papers on these areas. Gonzalo has co-authored, among other standards, the SIP (Session Initiation Protocol) specification (RFC 3261). He has served on the IAB (Internet Architecture Board) and has chaired a number of IETF (Internet Engineering Task Force) working groups. Currently, Gonzalo is the director of the RAI (Real-time Applications and Infrastructures) area at the IETF. He is also the IETF liaison manager to 3GPP.
The conference will be conducted in English
Location:

Aula 4. 1E02, Departamento de Telemática, Edificio Torres Quevedo, Universidad Carlos III de Madrid, Avda. Universidad, 30, 28911 Leganés – Madrid

Organization:

NETCOM Research Group (Telematics Engineering Department, UC3M); IMDEA Networks Institute

Time:

06:00 pm