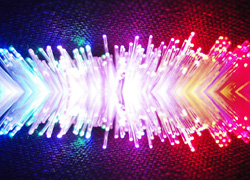 Dr. Antonio Teixeira, Instituto de Telecommunicaçoes, Nokia-Siemens Networks Portugal
External Presentation (External Speaker)
Objectives:
Give the attendees an evolutionary view on the access networks and open perspectives on the potential developments upcoming. It will always keep an eye on the standardization trends and other ecosystem parameters (as regulation, cost and timeline constrains) in order to provide the attendees the background to further perceive some of the upcoming opted solutions and dynamics.
Contents:
1. Evolution

a. A short review on the early stages of optical access technology.
b. Requirements
c. A/BPON
d. Deployments
2. Current standards

a. A review on the main definitions addressed by the current deployed technologies
b. GPON/ EPON
c. XGPON/10GEPON
3. Next generation

a. A short observation of the main trends and technologies being discussed at the forums and main conferences for state of the art definition
b. TWDM
c. Coherent
d. OFDM
e. WDM
f. Others
4. Some remote testing examples

a. A set of remote tests made in a real GPON and/or EPON with and without a Reach extender for "hands on".
5. General considerations on standardization and processes

a. A review on the actors and parameters of the ecosystem when thinking in deploying and choosing technology and technologies.
6. Sum up and final discussion
Speaker's CV:
http://www.it.pt/person_detail_p.asp?id=703
This event will be conducted in English.
Dates:
Tuesday, 29 May 2012, 18:30 – 20:30
Wednesday, 30 May 2012, 16:00 – 20:00
Thursday, 31 May 2012, 16:00 – 20:00