NetMob 2023 Data Challenge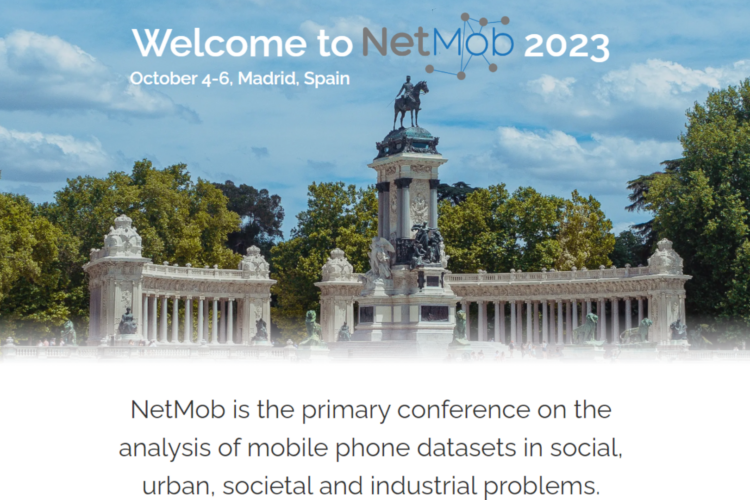 Major Event (Highlighted Event)
We are happy to announce the NetMob 2023 Data Challenge, a competition aiming at deriving and exploiting insights from a high-resolution dataset of mobile network traffic. The challenge revives the tradition of previous initiatives that opened hard-to-access datasets to the global research community and spurred the consequent scientific innovation, such as the 2013 and 2014 Data for Development (D4D) Challenges, the 2014 and 2015 Telecom Italia Big Data Challenges, or the 2019 Foursquare Future Cities Challenge.
The context
The challenge is associated to the NetMob 2023 conference that will be held in Madrid on October 4-6, 2023. NetMob is the primary conference on the analysis of mobile phone datasets in social, urban, societal and industrial problems. It provides a platform for discussion of high technical quality and strong multidisciplinary nature in a very informal environment, around topics linked to mobile network data and its usages.
In line with the spirit of the event, NetMob features Steering and Program Committees of internationally renowned experts across diverse domains concerned with network data analysis, including physics, mathematics, sociology, and networking. Traditionally, NetMob is a very accessible conference with low registration fees, and publishes a book of abstract but not formal proceedings. Previous bi-annual installments of the NetMob conferences have been hosted by MIT, Vodafone and the University of Oxford.
The data
The NetMob 2023 Data Challenge is centered on an original dataset that will be made available to approved participants, and describes the data traffic generated by 68 popular mobile applications during 77 consecutive days, geo-referenced at over 870,000 tiles of 100×100 squared meters each and covering 20 urban areas in France. The complete dataset contains 440 billion data points and is over 2.3 TB.
A complete description of the dataset is openly available at https://arxiv.org/abs/2305.06933
The objective
Participants will have an opportunity to carry out (technically and ethically sound) analyses based on the challenge dataset, towards (i) understanding and tackling social problems through the lenses of mobile service usage, (ii) developing novel tools for the generation of reliable synthetic mobile data traffic, or (iii) devising and evaluating solutions for improved network operations.
The format
In order to compete for the challenge awards, participants who obtained access to the dataset shall submit by June 30, 2023 a two-page extended abstract describing the preliminary results they obtained from the provided mobile network data.
Participants selected on the basis of these extended abstracts will then be invited to submit a final report with complete results by September 22, 2023, and to present such results during the NetMob 2023 conference. Awardees will be named during the event.
Participants will be also allowed to submit full versions of their works based on the dataset provided by the NetMob 2023 Data Challenge to peer-reviewed venues of their choice, upon approval by the organizers.
Apply now!
The NetMob 2023 Data Challenge is a unique opportunity to access data that is typically very difficult to come by, and employ it to generate new knowledge, support innovation, prove theories at scale, or validate solutions in real-world settings. Prospective participants shall apply to the challenge by registering at https://netmob2023challenge.networks.imdea.org/. Complete instructions are provided at the same webpage.
We look forward to receiving your applications and original results!
The NetMob 2023 Data Challenge organization committee.