Loon - Google's balloon based aerial network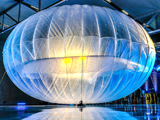 Ignacio Berberana, Senior Research Engineer, IMDEA Networks Institute & 5TONIC
In-house Presentation
The seminar will provide an introduction to the Project Loon, a network of balloons designed by Google to extend Internet connectivity to people in rural and remote areas worldwide. We will review its main technical characteristics and how it has evolved in the last couple of years. It will also review the activities carried out in cooperation with Telefónica in Latam, including technical trials in Chile and Perú, and provide an assessment of the main issues the project faces to become a sustainable commercial system. Although not likely to be covered in the seminar, we will also provide some information about other alternatives to provide connectivitivy using aerial networks, like Facebook Aquila initiative.
About Ignacio Berberana
Ignacio Berberana is working as a Senior Research Engineer from January 2017, where he is collaborating on various research efforts at IMDEA Networks as well as contributing his expertise to the 5TONIC laboratory. He received his MSc degree in Mining Engineering from the Madrid Polytechnic University in 1987. That year he was awarded a National Research Grant to study adaptive control systems. In 1988 he joined Telefonica I+D (Telefonica research labs), where he has worked in areas covering satellite and wireless communications, including several European projects (CODIT, MONET, Rainbow, Artist4G, iJOIN, 5G NORMA and 5G-XHaul). Before joining IMDEA Networks, he was responsible for the Innovation unit in the Radio Access Networks Direction of Telefonica Global CTO office, which deals with the long term evolution of mobile access, including 5G systems.
This event will be conducted in English