Institute IMDEA Networks Open House 2010: Research and development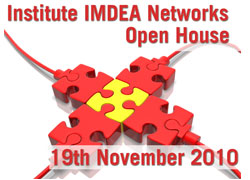 Major Event (Highlighted Event)
Event website: http://events.networks.imdea.org/openhouse-2010
Speakers:
Dr. Sergey Gorinsky (Senior Researcher, Institute IMDEA Networks): Institute IMDEA Networks and its Research Assistants
Paul Patras (Research Assistant, Institute IMDEA Networks): Student Perspective on Institute IMDEA Networks
Dr. Vincenzo Mancuso (Staff Researcher, Institute IMDEA Networks): Games: live experiments involving audience participation
Dr. Vincenzo Mancuso: The Effects of Frame Collisions in 802.11-based Mesh Networks
Dr. Antonio Fernández Anta (Senior Researcher, Institute IMDEA Networks): Small World Networks
Abstract:
Why should I consider a future in research? What sort of opportunities does a PhD open up for me? What makes research in the science of networks such an exciting career choice? How can we ensure that the Internet can grow and adapt to ever-changing needs over the coming decades? What lies beyond the Internet? What inspires network research?
Join us on Research Day to explore the answers to some
exciting questions. Learn what our Research Assistants, (who are themselves PhD students) do when they're not in the classroom and check out the many research paths that are open to you as a researcher once you have your doctorate. This is a rare opportunity to find out more about a range of career options from the people who really know what it's all about – our Research Assistants.
The Institute IMDEA Networks one-day Open House event gives you the chance to experience first-hand the full range of our computer networking research activities and collaborations via direct conversation with the researchers and students involved. The IMDEA Networks Open House will feature science and technology exhibits, displays of student posters, research presentations, networking career information and more. IMDEA Networks scientists will share with you their excitement about the institute's latest work.
Register now to join us and to discuss research and innovation as a career choice over light refreshments and snacks.
With researchers on hand to demonstrate field work and discuss ongoing studies, the Open House is a great way to find out how we're helping society face the communication challenges of the 21st century.
We look forward to welcoming you on Nov 19th, 2010!
Can't make it to the Open House? Just follow the link to our website or contact us to know more about the Institute IMDEA Networks research initiative.
Event website: http://events.networks.imdea.org/openhouse-2010
Location:

"Sala de Audiovisuales" 3.1.S08 - Edificio Rey Pastor (Biblioteca), Universidad Carlos III de Madrid, Avda. Universidad, 30, 28911 Leganés – Madrid

Organization:

Institute IMDEA Networks; Universidad Carlos III of Madrid; Semana de la Ciencia 2011 – mi+d

Time:

10:30 am