iJOIN: Interworking and JOINt Design of an Open Access and Backhaul Network Architecture for Small Cells based on Cloud Networks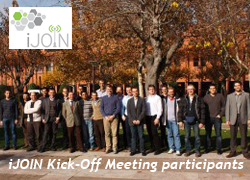 Albert Banchs, Deputy Director, Institute IMDEA Networks, Associate Professor, University Carlos III of Madrid; Carlos Jesús Bernardos, Associate Professor, University Carlos III of Madrid; et ál
In-house Presentation
​​ This is the kick-off meeting of the iJOIN EU FP7 project. It will consist of a series of presentations of work packages 2-4 intended to shape the first steps of the project. WP2-4 will be presented during 90 minute slots by each Work Package leader. The presentations will include:
Outline of scope of the WP and integration in project
Summary of partners' short-term and long-term topics and goals. Since in the very first phase, the State-of-the-Art is of particular interest, the presentations will give a brief overview of areas/topics which are part of the SotA analysis
Coarse time plan.
Project website: http://www.ict-ijoin.eu/
This event is for project members only
Location:

Departamento de Telemática, Edificio Torres Quevedo, Escuela Politécnica Superior, Universidad Carlos III de Madrid (UC3M), Avda. Universidad, 30, 28911 Leganes – Madrid

Organization:

University Carlos III of Madrid; Institute IMDEA Networks

Time:

10:00 am