Highlights of SIGCOMM 2018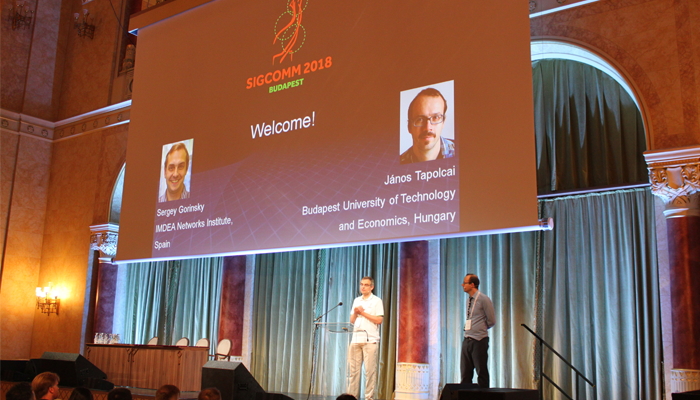 Sergey Gorinsky, Research Associate Professor, IMDEA Networks Institute, Madrid, Spain
In-house Presentation
The Association for Computing Machinery's Special Interest Group on Data Communication (ACM SIGCOMM) is a leading venue for research in architectures, protocols, technologies, and applications of computer networking and data communication. The ACM SIGCOMM annual conference spans all aspects of networks and networked systems, including packet processing, hardware and software, virtualization, routing, mobility, sensors, energy consumption, novel applications of artificial intelligence to networking, and usability of underlying communication technologies. Its participants include distinguished academics, brilliant students, and representatives of major multinational companies. Centered on its highly selective main conference, SIGCOMM published many landmark works in networking and communications. The conference also involves workshops, tutorials, presentation of demos, posters, industrial demos, student research competition, topic previews, and mentoring sessions. SIGCOMM 2018 met in Budapest on August 20-25. The first visit of ACM SIGCOMM to Eastern Europe became an unqualified success. Encompassing a variety of traditional and newly introduced events, the six-day conference program attracted around 750 attendees overall, with about 700 people registered for the 3-day main conference. This talk reviews the technical main-conference program, highlighting interesting ideas in its papers and identifying emerging research trends.
About Sergey Gorinsky
Sergey Gorinsky is a tenured Research Associate Professor at IMDEA Networks Institute, Madrid, Spain, where he leads the NetEcon (Network Economics) research group. Dr. Gorinsky received his Ph.D. and M.S. degrees from the University of Texas at Austin, USA in 2003 and 1999 respectively and Engineer degree from Moscow Institute of Electronic Technology, Zelenograd, Russia in 1994. From 2003 to 2009, he served on the tenure-track faculty at Washington University in St. Louis, USA. Sergey Gorinsky graduated four Ph.D. students. The areas of his primary research interests are computer networking, distributed systems, and network economics. Sergey Gorinsky made research contributions to real-time scheduling, buffer sizing, economics of network interconnection, service differentiation, cache deployment, multicast, congestion control, networking education, routing, and bulk data transfer. His work appeared at top conferences and journals such as SIGCOMM, CoNEXT, INFOCOM, Transactions on Networking, and Journal on Selected Areas in Communications. He served as a TPC chair of ICNP 2017 and other conferences, as well as a TPC member for a much broader conference population including SIGCOMM (2012, 2016), CoNEXT (2015-2017), INFOCOM (2006-2019; distinguished member: 2015-2018; area chair: 2019), ICNP (2008, 2010-2017; area chair: 2013, 2016; TPC chair: 2017). Sergey Gorinsky contributed to conference organization in many roles, such as a general chair of SIGCOMM 2018. He also served as an evaluator of research proposals and projects for the European Research Council (ERC StG), European Commission (Horizon 2020, FP7), COST Association, and numerous other funding agencies.
Relevant links:
* SIGCOMM 2018
* Personal website of Sergey Gorinsky
This event will be conducted in English