Enabling Technologies and Standards for Multi-hop Wireless Networking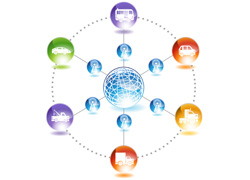 Prof. Enzo Mingozzi, Associate Professor, University of Pisa, Italy
External Presentation (External Speaker)
The purpose of this seminar is to provide an introduction to state-of-art technologies and standards related to mobile multi-hop wireless networks, as broadly classified into three categories depending on their typical coverage: broadband wireless access (BWA), wireless local area networks (WLAN) and wireless personal area networks (WPAN).
Who is Enzo Mingozzi?
Enzo Mingozzi has been an associate professor at the Faculty of Engineering of the University of Pisa, Italy, since January 2005. He received a Laurea (cum laude) degree and a PhD in Computer Systems Engineering in 1995 and 2000, respectively, from the University of Pisa. His research activities span several areas, including design and performance evaluation of multiple access protocols for wireless (multi- hop/mesh) networks, quality of service (QoS) provisioning, and service integration in Internet Protocol (IP) networks. He has been involved in several national (FIRB, PRIN) and international (Eurescom, IST) projects, as well as research projects supported by private industries (Telecom Italia Lab, Nokia, and Nokia Siemens Networks). He also actively took part in the standardization process of HIPERLAN/2 and HIPERACCESS networks in the framework of the ETSI project Broadband Radio Access Networks (BRAN). He is a member of the IEEE and the IEEE Computer Society.
* Syllabus
1. A quick introduction to multi-hop wireless networking
2. Broadband Wireless Access
a. Overview of the IEEE 802.16/WiMAX standard b. Basic MAC and PHY features c. Mesh/Multi-hop support in WiMAX: 802.16 mesh mode and 802.16j d. QoS support: resource scheduling and allocation in mobile WiMAX
3. Wireless Local Area Networks
a. Mesh/multi-hop networking in wireless LANs b. The IEEE 802.11s standard c. Mesh support in IEEE 802.11 d. The Mesh BSS concept, forwarding & routing, (access) coordination function e. Contention-free access: impact of remote interference, resource scheduling and allocation f. Relationship with other 802.x standards g. Current implementations and outlook h. Dynamic Frequency Selection (DFS) in practical mesh WLANs i. Advanced techniques for fast routing repair in practical mesh WLANs
4. Wireless Personal Area Networks/Internet of Things a. Introduction to the Internet of Things (IoT): new application scenarios and technological challenges b. IP-based solutions c. Overview of 6LoWPAN: IPv6 for Low-power WPANs d. Mesh networking support: the RPL routing protocol e. Mobility management f. Layer 2 solutions g. The IEEE 802.15.5 standard h. A brief overview of ETSI Machine-to-Machine standardization
This event will be conducted in English
Location & dates:
UC3M, Avda. Universidad, 30, 28911 Leganes – Madrid
24 April, Room 2.J04, Building Rey Pastor (library), 11:00-14:00
25 April, Room 2.J04, Building Rey Pastor (library), 11:00-14:00
26 April, Room 2.3.C02, Building Sabatini, 11:00-13:00
27 April, Room 2.J02, Building Rey Pastor (library), 11:00-13:00