Betting on Challenges for Flourishing Ambient Intelligence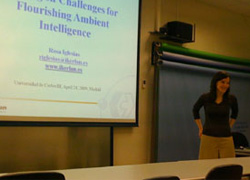 Dr. Rosa Iglesias, Ikerlan Technological Research (Mondragón, Spain)
External Presentation (External Speaker)
Abstract:
This talk will present a brief overview of systems, technologies and applications that are part of Ambient Intelligence (AmI). It is also the purpose of this talk to bring together researchers for inspiring innovation in the evolution of AmI and for answering the question: What are the challenges we need to bet on?
AmI characterizes a new paradigm for novel interactions between a person and his/her everyday environment so as to enhance human capability and quality of life. This will impose major challenges on research to support human-centered information, communication and services everyday and everywhere.
It has been ages since Ken Olson, as President of Digital Equipment Corporation in 1977, said "There is no reason anyone would want a computer in their home". Presently, the reality is by far completely different; today most people have a computer at home. Furthermore, thanks to technological advances computing devices went down in history when became mobile and almost everybody makes use of them everyday (i.e. mobile phones, PDAs, smartphones). The next promising generation of devices is approaching and they will be embedded in our working environments, homes, clothing and infrastructures, among others. These devices will help users in sensing physical surroundings, gathering, processing and displaying information everyday and everywhere. To create an AmI landscape, the arrival of new ubiquitous communications and intelligent user interfaces are also needed. Promising wireless communication technologies will help so that more computing devices can communicate among them and exchange information, and beyond that, intelligent user interfaces to make use of AmI information in an invisible and natural way from user viewpoint.
Who is Rosa Iglesias?
Dr. Rosa Iglesias is currently a researcher at Ikerlan Technological Research Center, Spain. After graduating in Mathematics from the University of the Basque Country in Bilbao, she obtained a PhD in Computer Science from the University of the Basque Country in San Sebastian (Spain). Her PhD was developed on the subject of networked haptic virtual environments for assembly tasks at Labein (Spain) and it was partly carried out during a visiting stay at MIT and Queen's University Belfast. She also hold a post-doctoral position at SITE, University of Ottawa (Canada). She obtained the second Thesis Award by the Research Basque association in 2007.
She worked on multimodal haptic environments for the blind and networked haptic virtual environments at Labein. During her postdoctoral research, she was more focused on haptic applications on different fields, such as, education or medicine and adaptive haptic frameworks. She is currently involved in several European projects on Ambient Intelligence including SmartHealth, SmartTouch and AmIE. Among her publications, it is worth mentioning 3 journal papers included in JCR, a keynote speech in IEEE HAVE (Haptic Audio Virtual Environments 2007, Ottawa, Canada), a tutorial ("A Glimpse of Multimedia Ambient Intelligence" in ACM Multimedia 2008, Vancouver, Canada) and 8 publications in conferences or workshops included in JCR. In addition to this, in 2008 she was appointed professor for the PhD master called "Ingeniería Computacional y Sistemas Inteligentes" at the University of the Basque Country.
Her current research interests span ambient assisted living, smart homes environments (domotics), real-time/embedded systems, multimedia "anytime/anywhere", and agent technologies. She is a member of IEEE and ACM and of the editorial board of the International Journal of Advanced Media and Communication (IJAMC). Moreover, she has been serving on several technical programs and organizing committees.
She can be contacted via email at: riglesias@ikerlan.es.
More information about Rosa Iglesias at Ikerlan – Technological Research Centre: http://www.ikerlan.es
Location:

Room 4.1F03, Telematics Department, Torres Quevedo Building, University Carlos III of Madrid, Avda. Universidad, 30, 28911 Leganes – Madrid

Organization:

NETCOM Research Group (Telematics Department, University Carlos III of Madrid, Spain); IMDEA Networks (Madrid, Spain)

Time:

12:00pm