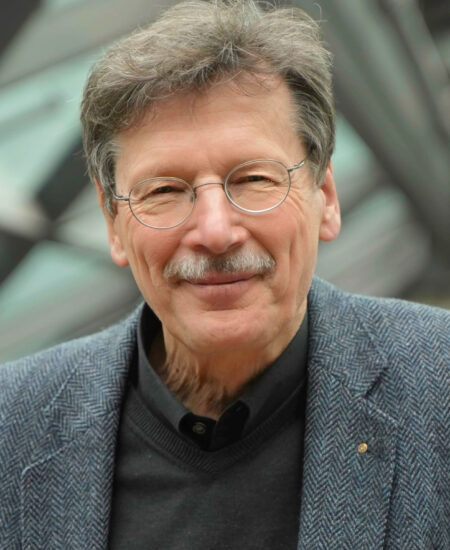 Dr. Ralf STEINMETZ
Visiting Professor (Chair of Excellence University Carlos III of Madrid and Banco Santander)
Affiliation:

IMDEA Networks Institute, Universidad Carlos III de Madrid (U3CM)

PhD:

Electrical Engineering - Technische Universität Darmstadt. Darmstadt, Germany

University of origin:

Technische Universität Darmstadt. Darmstadt. Germany

Joining date:

January 2015

Leaving date:

August 2015
Biography
Prof. Dr.-Ing. Steinmetz is the President of the Board of Trustees and a member of the Scientific council of IMDEA Networks. Full Professor & Managing Director of Multimedia Communications Lab (KOM) at Technische Universität Darmstadt. Darmstadt. Germany.
Valedictory Report
I had the pleasure to stay for the first half of the year 2016 in Madrid, namely at IMDEA Networks and at the Department of Telematics Engineering at UC3M. In the latter I worked closely with members of the NETCOM Research Group. During this time I enjoyed interacting closely with researchers and students. Allow me to share the following thoughts about IMDEA Networks after being back for about 8 months to perform my regular duties at Darmstadt, Germany.
First, the openness and friendly interaction at IMDEA are certainly something not common in other European research institutions. The first day I was already welcomed as a friend who had been here for many years and every day. The administrative personnel helped me in whatever I needed … and I needed very many things…. Free coffee generated interesting discussions daily in the kitchen; whereas the open spaces fostered a variety of fruitful exchanges.
Today's research does not mean one is to sit alone, think, nail it down and publish. Today's excellence in research requires much more than that: team work, brainstorming, a free exchange of ideas, and openness of the involved scientists. IMDEA Networks is definitively one of the best places in the world to achieve this.
Regular talks with additional food provided by IMDEA attracted many of the lab researchers. It was always a pleasure to participate. I learnt a lot about the challenges of 5G and the 60Ghz research topics. I was also a member of PhD committees of graduating doctoral candidates, who I had previously had the opportunity to listen to in presentations of their work given at the lab. This was another way of finding out much more in detail what goes on at the various research groups at the institute and enjoy the opportunity of collaborating with them at an early stage of their work.
During my stay, the idea came-up to apply for the prestigious Humboldt award (namely Friedrich Wilhelm Bessel-Research Award of the Humboldt Foundation) for the institute's research director, Joerg Widmer. Thanks to the possibility offered by our close collaboration during this period we were able to prepare a very solid proposal and it met with success!
Finally, plenty of meetings with Arturo Azcorra helped me to understand more in depth the institute's short and long-term strategy. His outstanding knowledge of 5G and his highly regarded expertise by EU officials and colleagues will certainly have a great impact on the future of European 5G activities.
All of these issues are very very important for me being the president of the Board of Trustees of IMDEA Networks. It is a pleasure to see what has happened and what WILL happen at the institute. It is definitely a place you need to be!