Science and Innovation Week 2022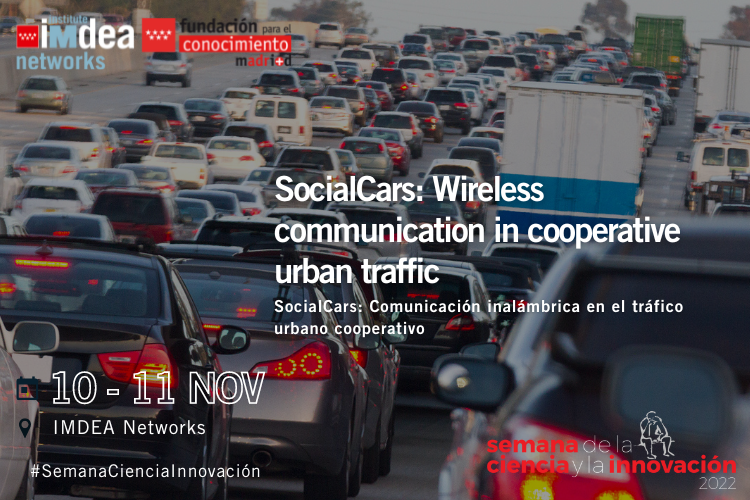 Markus Fidler, Vising Professor, IMDEA Networks Institute, Madrid, Spain
Major Event (Highlighted Event)
IMDEA Networks is again participating in the Madrid Science and Innovation Week, a science outreach and citizen participation event that aims to attract new audiences, involve new agents and institutions in the scientific process, and make science more visible.
On November 10 and 11, the Institute is organizing an educational talk "SocialCars: Wireless Communication in Cooperative Urban Traffic". Professor Markus Fidler will present an overview of how wireless communication technology can help improve transportation in the future.
SocialCars focuses on cooperative approaches to make future urban road traffic more city-compliant. "How can the needs of society for livable urban space be reconciled with individual requirements for efficient and safe transport?" is the key question.
About Markus Fidler
Markus Fidler is a professor for communications networks and the director of the Institute of Communications Technology at Leibniz University Hannover, Germany. After graduating in electrical engineering in 1997 from RWTH Aachen University, he was a systems engineer in mobile communications at Hagenuk Telecom and at Alcatel SEL. In 2004 he received his doctoral degree in computer engineering from RWTH Aachen University. As a postdoctoral researcher, he worked at the Institute Mittag-Leffler at KTH Stockholm, at NTNU Trondheim, the University of Toronto, and TU Darmstadt, where he received his habilitation degree in communications networks end of 2008. He was admitted to the Emmy Noether programme of the German Research Foundation in 2005 and he was awarded a Starting Grant of the European Research Council in 2012.
This event will be conducted in English