International Scientific Council holds successful inaugural meeting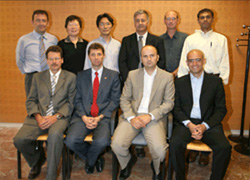 Major Event (Highlighted Event)
On July 11th IMDEA Networks held the Annual Inaugural Meeting of its Scientific Council in Madrid. The meeting marked a milestone in the establishment of the research foundation. This prestigious Council is comprised of eleven of the World´s top researchers in network technology.
The Council was introduced to dignitaries, including senior representatives from the Regional Government of Madrid, who created and founded the IMDEA initiative. Having formally accepted their positions as Members, these eminent experts proceeded to discuss various aspects of the Foundation's scientific strategy, which will help to steer the direction of research to be pursued over the coming years.
IMDEA Networks works in close collaboration with researchers from several universities in Madrid, including University of Carlos III. The Director of the Foundation, Dr. Arturo Azcorra, Head of the Telematic Engineering Department at the University, chaired the Scientific Committee.
Thanks to the invaluable contribution of the Scientific Committee, the Foundation will continue to build on the successes of its first year, recruiting more research and administrative support staff to help propel the organisation into the forefront of network technology research institutes in the World.
ABOUT IMDEA NETWORKS
IMDEA Networks is an international research institute supported by the Regional Government of Madrid and the European Commission. The Institute brings together distinguished and young scientific researchers to develop cutting-edge science and technology in the field of networking. Promoting interdisciplinary collaboration, the Madrid-based Institute works in partnership with leading businesses and scientists from around the globe. By generating new knowledge and understanding through its activities, the Institute supports the continued development of Madrid and Spain as a centre for international scientific and technological research.
CONTACT INFORMATION
IMDEA NETWORKS
Avda del Mar Mediterraneo, 20-22
28918 – Leganés
Madrid (España)
If you would like more information about this topic, please email Liz O'Neill