Visit of the Vice-Ministers and the Director General of the Regional Government of Madrid to IMDEA Networks
IMDEA Networks and IMDEA Software presented their latest research advances to the delegation from the Regional Government of the Community of Madrid
15 September 2021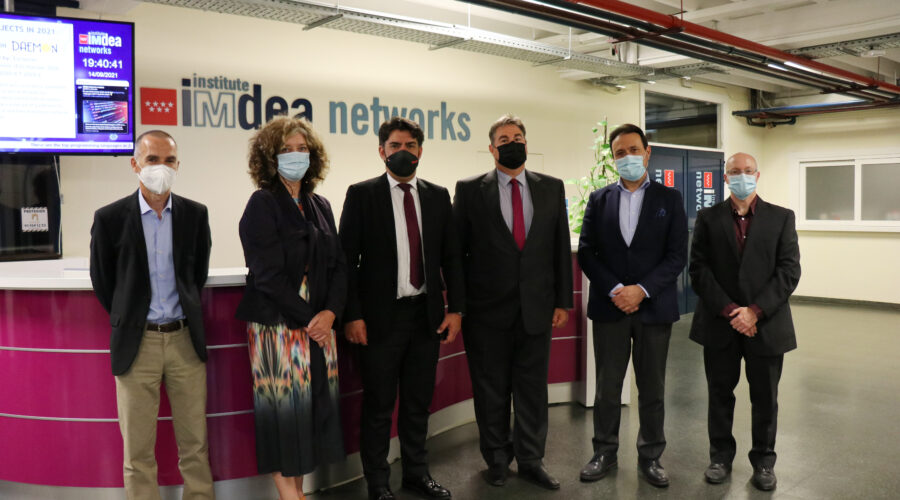 IMDEA Networks' headquarters in Leganés, Madrid, was visited by a delegation from the Regional Government of Madrid, led by Fidel Rodríguez Batalla, Deputy Minister of Universities, Science and Innovation, accompanied by José Antonio Sánchez Serrano, Deputy Minister of Local Administration and Digitalization, Ana Isabel Cremades, Director General of Research and Technological Innovation, and Alberto Retana de la Fuente, Director General of Digital Policy.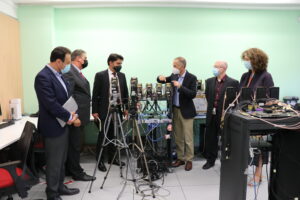 The visit began with a meeting in which Albert Banchs and Manuel Carro, directors of IMDEA Networks and IMDEA Software, respectively, summarized some of the most recent advances in their lines of research, followed by a tour of some of the laboratories. In this case, the delegation was able to see first-hand the work being carried out in the laboratories for Millimeter Wave Networking (cutting-edge studies related to millimeter waves) and LiFi (an example of sustainability: battery-free energy to support, for example, the Internet of Things). They were also able to visit 5TONIC, an international reference laboratory for research on 5G networks, which brings together the innovation efforts of IMDEA Networks, entities such as the Carlos III University and leading companies, from Spain's Telefónica to Ericsson.
At the end of the visit, Rodríguez Batalla underscored the importance of the work the research entities are undertaking: "Again, we have seen at ground level the excellence of the research being carried out in the Community, at IMDEA centers, and how it's earning international recognition such as European research grants. The work being done here is for the benefit of society.  It's also an excellent example of technology transfer, and of collaboration between institutes, such as Networks and Software, which are carrying out incredible research".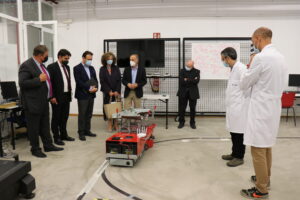 For his part, Banchs stressed: "Digital transformation offers many advantages, providing greater agility and dynamism to the economy and improved services to citizens, as well as being able to contribute to a larger and more competitive ICT sector. Madrid has a high penetration of fiber and 4G networks, widespread deployment of 5G, and a significant ICT sector, with large companies and SMEs, which are able to contribute to this digital transformation. Besides that, IMDEA Networks and IMDEA Software have a deep knowledge of advanced technologies such as 5G and Edge computing, Big data and Artificial Intelligence. These are key technologies for digital transformation not only to improve existing services, but also to incorporate new services such as personalized medicine with monitored patients, emergency assistance with augmented reality and autonomous buses and taxis".
And Manuel Carro emphasized the importance of close collaboration between public sector managers and researchers: "It's very important that public administrations, in our case in the Community of Madrid, take notice of technological research and try to realize the opportunities to make progress with processes such as digitization."