Juan de la Cierva Incorporation Grants 2015
National Fundings
Financed by:
Spanish Ministry of Economy, Industry and Competitiveness (MINECO), National Programme for the Promotion of Talent and Its Employability, part of the National Plan for Scientific and Technical Research and Innovation 2013-2016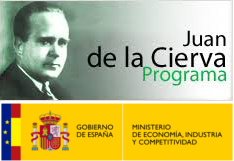 Grant for the recruitment of PhD-holders by research and development centers.
The purpose of the Juan de la Cierva incorporation grants is to encourage the recruitment of young doctors by Spanish research organizations or R&D centers. Grants are awarded for a period of two years in order to strengthen the grantee's acquired skills during a first stage of postdoctoral training.