Mihai Moraru, new PhD Student
07 October 2013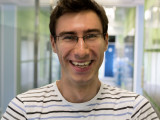 Mihai Moraru has become a member of our research team. Starting from October 2013, he will be working as a PhD Student under the supervision of Dr. Dejan Kostić, Research Associate Professor at the Institute.
Mihai became an Ingénieur diplômé de l'INSA de Lyon in 2013 after completing a five-year Engineering program in Telecommunications, including a one-year academic exchange at EFPL (SysCom). He also received the Master Recherche en Informatique de Lyon (Computer Graphics).
During his studies Mihai completed several R&D internships on diverse topics such as formal verification (Verimag, Grenoble), space optimization (SquareClock, Paris – now Dassault Systèmes), data mining (LIRIS, Lyon) or network analysis (IMDEA Networks, Madrid).
His research interests currently lie in computer networks and distributed systems.
---
PhD Students at IMDEA Networks
Do you also wish to join our team of young researchers? More information in our Careers opportunities pages.
Source(s):
IMDEA Networks Institute